By Irwin Greenstein, Shotgun Life
Perazzi has engaged select authorized dealers to contribute their expertise in designing and delivering unique, purpose-driven shotguns that most of us rarely see.
 The projects can vary from a rib tweak to a discipline-specific stock or enhancements revived from Perazzi's decades of innovation, experimentation and customization, notably the Perazzi MXS Sporter recently covered in Shotgun Life.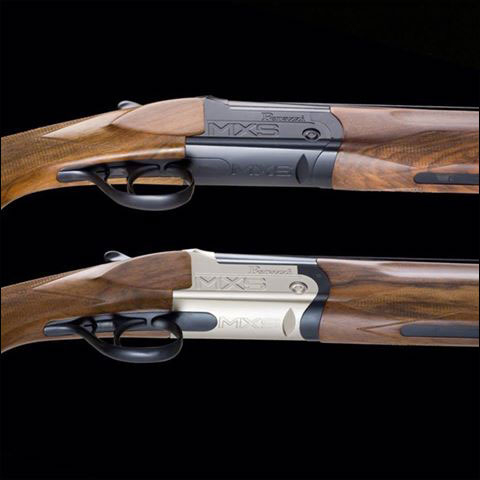 Perazzi's new MXS Sporter.
Unlike the MXS Sporter, the finished new models fashioned by Perazzi dealers will fly under the radar of most enthusiasts — rewarding the few fortunate owners with a rare Perazzi of exceptional function.
"Perazzi listens to our customers and dealers and tracks design trends that evolve with the sport," explained Al Kondak, Managing Director of Perazzi USA in Azusa, California. "Because we fully believe in pull-through product design as opposed to push through, authorized Perazzi dealers have a comprehensive understanding of all disciplines and the demands required of them. As a team, Perazzi's experience in full customization presents the greatest advantage to our dealers."
The dealers' innovations touch nearly every model Perazzi, including the highly prized DC12 side by side.
Michael Coleman, owner of Windwalker Farms Sporting Clays in Midland, Texas, is a Perazzi dealer who configured a distinctive clays version of the DC12. In fact, he won the 2013 National Sporting Clays Championship Side by Side Competition with a Perazzi DC12 by breaking 92 out of 100.

The Perazzi DC12 side by side.
Mr. Coleman described that particular model as "shooting like an over and under, without the muzzle flip of a side by side. They have double underlugs. You'd have to shoot one a long time to wear it out."
When we spoke with him in mid-December 2013, Windwalker Farms Sporting Clays had just uncrated four DC12 shotguns that were fitted to his specifications with a parallel sporting clays stock and 31½-inch barrels choked improved modified and full. As befitting a clays shotgun, Mr. Coleman's DC12 includes a mid-bead and palm swell.
Choke constrictions and stocks measurements replicate those on Mr. Coleman's own Perazzi MX8 over/under, which he has used to win numerous clays tournaments. "It's a set of dimensions that work well," he said.
His DC12 sporting-clays model bears the detachable trigger assembly of a Perazzi MX8, although the strikers are altered for the side by side configuration.
When you combine the MX8 detachable trigger, the double locking lug system from Perazzi's TM9X trap gun, the company's legendary spot-on regulated barrels and a weight of about 8¼ pounds, Mr. Coleman has marshaled a side by side worthy of rigorous clays competitions.
"The international disciplines where Perazzis compete typically require a 24-gram ammo load and an extremely quick second shot," explained Mr. Kondak. "Crisp, consistent triggers, recoil control and regulated barrels are absolutely necessary. Internationally, competitive shooters are more critical and purchase guns based on a successful track record as opposed to being persuaded by flashy marketing campaigns."
Like Mr. Coleman, John Herkowitz, owner of the mega Pacific Sporting Arms also in Azusa, California, has been a successful clays tournament campaigner for decades. Mr. Herkowitz's input has fueled an on-going collaboration with Perazzi that, by his account, has produced eight to nine different models around the MX2000/3 SR Sporter, MX12 and MX8 shotguns.
"Perazzi is the only company I can experiment with," he said. "What we've done is several different ribs for them. I can make one or two guns to see how it turns out. Some stayed and some went.
We've done that several times in the past 15 years."
Ribs played a primary focus of Mr. Herkowitz's Perazzis. An underlying belief is that the movement toward high-ribbed sporting guns mostly benefits tall, thin shooters by alleviating pressure on their cheek and neck.
Therefore, a favorite rib of Mr. Herkowitz alters the measurements of a standard Perazzi sporting gun for average proportions. Rather than tapering from 11mm to 7mm at the muzzle, he stipulates a vented rib that is a straight 7mm wide. "You have this nice, thin rib helping you acquire the target, but doesn't draw your eye to it and away from the target," he said.
The Perazzi Mirage.
Pacific Sporting Arms also offers a 7mm rib with a 2mm or 4mm rise from the monobloc. His efforts concentrate on minimal weight and maximum sight picture as inspired by the Perazzi Mirage pigeon gun from the mid-1990s.
"John has probably the most evolved role of all our authorized Perazzi dealers," said Mr. Kondak. "He has very strong opinions. He feels that mid-rib height offers the advantages of a high rib and gives the gun a more natural feel. These all provide increased visibility, greater feel and enhanced target acquisition. If you can see more, you can judge speed, angle and distance more accurately. The future of these designs looks extremely promising."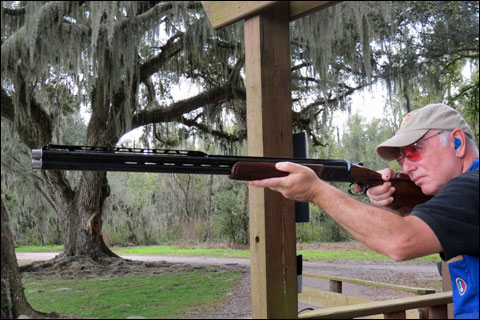 The author shooting the Perazzi MX12 short-rib prototype.
However, in an ongoing evolution, Mr. Herkowitz has also adopted an elevated, so-called short-rib from Olympic Double Trap to a Perazzi MX12 sporter. We received one of these prototypes. The rib is much lower at the rear for rapid target acquisition on outgoers and crossers, and then at about mid-barrel it steps up to a height you might see on a trap gun. Mr. Herkowitz's short rib is 6mm high and 7mm wide on the front portion while the back part is 7mm x 7mm at a conventional, solid flat rib height. The barrel length is 31½ inches. On the version we shot the short rib was fixed, while an adjustable short rib is available.
"The short rib originated for international disciplines," he explained. "It pulls your eye out to the target, but you also have secondary vision with it. Everyone who shot one said it works. Now we we're using the short rib in all disciplines."
Mr. Herkowitz also specifies proprietary stock dimensions of a near-parallel comb — a Monte Carlo profile of sorts with a pistol grip. The forend is a slender competition type. The estimated price was $11,200.
We shot sporting clays with the Perazzi short-rib prototype. Carrying the gun, the heft suggested a bulk of nine pounds, although actual weight was 8½ pounds with extended screw in chokes, fixed rib and adjustable comb.
The fixed, coil-spring trigger fired at 3½ pounds on the bottom barrel and 3¼ pounds on top. The trigger blade actually felt quite smooth, as though on ball bearings.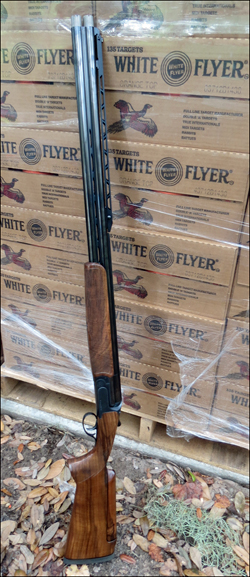 The Perazzi MX12 short-rib prototype.
Stepping into the station, high incomers in particular required supplementary target float. I missed high several times before adjusting to the new sight picture of brilliant visibility. Psychologically, open target views distracted from the odd composition of the short-rib sporter. Shooting 1⅛ ounce loads rated at 1,200 feet per second yielded zero felt recoil.
Shooting low gun, you're supposed to mount just before triggering the shot. The presentations, though, were extremely long and elusive. Often, the trap machine would be secluded in the distance so that you couldn't establish the bird until long after it was launched. In trying to identify the best break point I'd often find myself shouldering the Perazzi prematurely and tracking the target excessively — scenarios that accentuated the outstanding visibility of the rear lower rib versus a full-length high rib.
Afterwards, we moved to a section of the course set for beginners. The close-range presentations were taken as true pairs — demanding fast swings both horizontally and vertically. The Perazzi MX12 prototype, which was balanced about one-half inch ahead of the hinge pins, moved faster than anticipated. Obviously, the shotgun was muzzle-biased but the dynamics communicated a responsive bond closer to neutral on those quick shots.
I realized that if the prototype was ungainly, that bias stemmed mostly from its appearance. You look at a new shotgun and predict its performance. At first glance, you anticipate the Perazzi MX12 prototype to be unwieldy. In practice, prejudice fades as the true Perazzi emerges.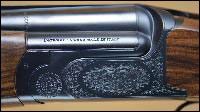 The receiver of the Perazzi 16-gauge Black Edition Lusso game gun.
Mr. Herkowitz's input went beyond target shotguns to creation of the matchless, limited-production, 16-gauge Black Edition Lusso game gun. The 29½-inch barrels with solid ribs were fitted to an MX12 12-gauge receiver. At 7¼ pounds, it weighs as the same as a Perazzi MX20. The choke constrictions are 0.16/0.24 (approximately Modified/Full). He added a small stepped rib. Most of the high-end Lusso Perazzis are finished in nickel. By contrast, Mr. Herkowitz's 16 gauge features a blued receiver with Lusso-grade engraving, which gave rise to the Black Edition. The shotgun incorporates a Purdey-style pistol-grip stock and game barrels with solid side ribs. Only two Black Edition Lussso's in 16 gauge have been produced to-date.
"The overall weight of the Black Edition is more like a game gun," said Mr. Kondak. "Serious hunters have always revered the 16 gauge for its efficient ballistics and lighter carrying weight."
Several other custom Perazzis have arisen from authorized dealers, including the Perazzi MX2000/3 RS Combo and MX2000/3 RS SR Combo, the Devon, a 28-gauge live pigeon gun and the Ladies Sporter.
Steve Brink, the owner GameMasters in Quincy, Illinois, is respected in the trap community. After several conversations. Mr. Brink and Perazzi embarked on a shotgun for the serious trap shooter who also wanted to shoot sporting clays.

A Perazzi MX2005 12-gauge trap gun with a super high rib.
The collaboration assumed that an adjustable high rib is now defacto on most trap guns. Looking back, the origins of high-rib shotguns can be traced to trap, where participants stand more upright than other clays shooters. A high rib maximizes target acquisition for trap's curbed range of movement in crushing oscillating outgoers. Still, Mr. Brink and Perazzi realized that the rapid adoption of increasingly taller ribs isn't sought by every trap disciple.
They concluded that a lower adjustable rib felt more nimble while providing extra versatility for other clays games. The outcome was the Perazzi MX2000/3 RS Combo and MX2000/3 RS SR Combo. Perazzi's 10mm high, three-notch sporting rib, which can vary from 50/50 to 70/30 point of impact, proved a universal choice. An unsingle barrel is devoted to singles and handicap trap while the over/unders address doubles trap, bunker trap, sporting clays and skeet —exhibiting a consistent sight picture across both barrel sets. Chiefly for trap, the package supplies wider flexibility for multiple disciplines with one Perazzi. First allotment of the Perazzi combos sold out almost immediately, according to Mr. Kondak.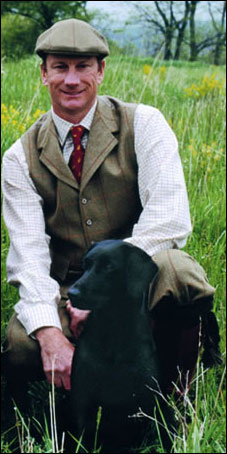 Charles Schneible, owner of British Sporting Arms.
Meanwhile, on the East Coast, Perazzi cooperated with British Sporting Arms of Millbrook, New York on development of the Devon Model for High Pheasants.
British Sporting Arms owner Charles Schneible said the Devon Model over/under is an "Americanized version of Perazzi's high-pheasant HPX."
Next page, Englishman John Jeffries and the HPX