By Deborah K. McKown, Shotgun Life
The new Syren USA line of ladies shotguns and accessories underscores an encouraging trend of premium shotguns designed for the shape of a woman's body.
Syren USA rounds out a growing class of exceptional ladies sporting and upland shotguns crafted by Perazzi, Browning, Blaser, Ithaca and Fausti. By shunning pink stocks in favor of Turkish walnut, these manufacturers tacitly assimilate women into the general shotgunning community, especially when it comes to recreational outings.
Here at Shotgun Life 31% of our readers are female. In fact, we are the only magazine, print or digital, that has featured a dedicated section to women in the shotgun sports since our launch in 2009. It discusses issues such as fit, recoil and shotgun selections. With Elizabeth Lanier, Holly Heyser, Ann Kercheville and myself, Shotgun Life has more female columnists than any other wing and clays publication.
That's because Shotgun Life has realized from the get-go that female shotgunners want firearms, instructions and apparel to match our distinct requirements and feminine perspectives. Now that manufacturers are supporting our participation with ladies sporting and field models, we are witnessing the dawn of a golden age for women in the shotgun sports.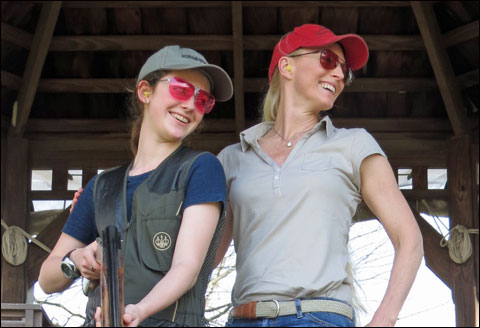 Mother and daughter, Paulena and Joanne Prager, are among the growing number of women embracing the shotgun sports.
Women represent a fast-growing revenue source for our industry. While we don't have a specific breakdown for shotguns, from 2001 to 2011 the number of women participating in shooting sports and hunting grew 52% and 42% respectively, according to the National Sporting Goods Association. A 2012 survey showed 73% of gun dealers said the number of female customers increased in 2011.
The number of women who are wing and clays shooting has been building gradually over recent years, especially as a recreational indulgence. Women have been competing for years in clays tournaments, but the notion that we can spend a few hours at our local clays course with friends and family is gaining momentum.
If there is any single metric to measuring our progress it's through the rising number of shotguns tailored to women.
Historically, shotgun manufacturers have dabbled in ladies' models only to withdraw them from the market following disappointing sales. That vacuum had been filled by youth models, smaller, sub-gauge shotguns and stock hack jobs to make shotguns fit us while often compromising other attributes in the bargain.
As we have covered in our "Women and Shotguns" section, the sporting and hunting shotguns displayed at your dealers are engineered to fit the average right-handed man who stands 5-foot-9, weighs 165 pounds, has a 33-inch arm length and wears a size 40 regular. Bottom line: the guns are too big for most women. An ill-fitting shotgun can result in a painful recoil thrust to your shoulder and cheek bone, likely culminating in bruising and a lifelong dread of the sport.
When your significant other hands you his 12 gauge and says "try this, honey" he probably doesn't realize the potential dire consequences of ignoring fit fundamentals.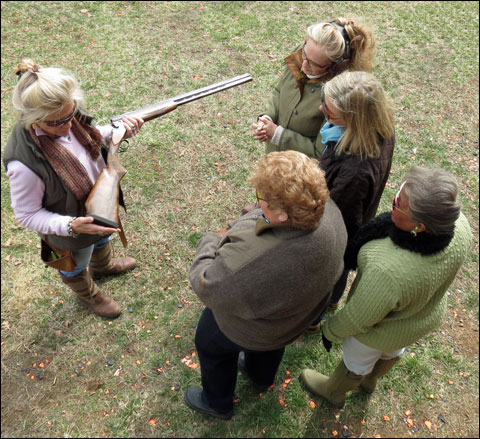 Elizabeth Lanier, GRITS Founder and NSCA Level III instructor, explains the finer points of fit on the Perazzi Ladies Sporter to (from left) Susan E. Estes, Bruce Mish, Dianne Reynolds and Debbie Clay (http://laniershootingsports.com).
A shotgun meets your body at five points: recoil pad against the shoulder, cheek against the stock, trigger hand on the grip, trigger finger on the trigger blade and left hand (for righties) on the forend. If all of these points are in proper alignment, the gun should feel comfortable, be easy to swing and allow your eye to form an unobstructed view down the rib.
Therefore, five important shotgun stock dimensions need to be evaluated.
Cast (angle of the stock relative to the axis of the barrel). Cast can also be addressed with an adjustable comb which is a cut-out in the stock that lets you set the cast and height. As an aside, make sure your bra strap doesn't rest under the recoil pad since that could cause bruising.
Pitch (angle formed by the butt of the stock in relation to the barrels). Women should have a positive pitch on their shotgun stock. For men, the typical pitch angles the recoil pad down into their arm pit area. For women, it should be the opposite given the shape of their body around the breasts — bearing in mind the incredible number of bra-size variations. The pitch should reflect the contour of the point where the recoil pad fits into "the pocket" between shoulder and chest. A simple wedge shaped insert between the recoil pad and the stock butt can inexpensively provide the correct pitch.
Length of pull (length of the stock as measured from the middle of the trigger finger to the butt of the shotgun). Length of pull (LOP) is often the quickest fix to fitting a women's shotgun. It simply involves cutting the stock from the back to make sure your trigger finger is well-positioned. In some cases, shortening the stock may be sufficient. However, do not take for granted that length is the only dimension that needs attention. Also, pay attention to the balance of your shotgun after the stock is cut. You could find yourself with a barrel-heavy shotgun that is difficult to swing. If so, consider adding weight into the stock to achieve perfect balance around the hinge pin. For example, you may be able to insert an after-market recoil reducer that adds necessary ballast while using either mercury or springs to absorb recoil.
Drop at the comb (distance of the angle formed between the barrel rib and the comb and heel of the stock). Because women generally have longer necks than men, they should look for a shotgun with a Monte Carlo stock, which is easy distinguished by a bump-up that raises the comb. Some Monte Carlo stocks also feature an adjustable comb — a cut out section that can be altered horizontally and laterally.
Drop at heel (the distance from the plane of the rib to the stock's heel). Long-necked shooters such as women would need additional drop at heel. However, other aspects need to be considered such as slope of the shoulders and forward-leaning gun mount which would contribute to less drop at heel.
Reach should also be considered. That's the distance required from the grip to the trigger blade. Relatedly, make sure the grip radius fits your hand when shopping for a shotgun.
In addition to fit, shotgun balance is equally important. If a shotgun is barrel-heavy, the muscles in your left arm (for righties), shoulder, elbow and wrist can bear the strain — making the shotgun feel heavier than its stated weight. That means an improperly balanced 7-pound shotgun could feel 7½ or 8 pounds after several rounds. The ideal balance point puts the center of gravity around the receiver, between your hands. A well-balanced shotgun is often the benefit of purchasing from premium manufacturers, and a reason to consider going upmarket, finances permitting.
Using these criteria, we've identified wing and clays shotguns specifically crafted to give comfort and performance for women. Ultimately, though, if you really want the perfect shotgun get a custom-fitted stock. In the meantime, these shotguns do a commendable job for female wing and clays enthusiasts.
Blaser F3 Ladies Gun
Blaser teamed with Speedbump Stockworks for an F3 with adjustable recoil-absorber pad that's billed as the F3 Ladies Gun. The basic Blaser F3 is a German gem with mechanical triggers, low-profile receiver and weight-balancing system.

The Blaser F3 Ladies Gun.
Blaser's F3 Supersport stock on the ladies model features a Monte Carlo stock ideal for women's longer necks. The 4-way adjustable comb provides incremental tweaks for height and cast. These stocks have palm swells which add circumference — possibly making the pistol grip too wide for women. Blaser's excellent, adjustable trigger can potentially mitigate trigger-finger reach and grip distortions.
Next page please…