By Barbara Baird, Women's Outdoor News
In this series on women who shoot guns bearing the Beretta name, we are delighted to bring you one of our own – Sara Ahrens, who writes OffBeat at Women's Outdoor News, sponsored by Armed in Stilettos. With more than 20 years in law enforcement, and with a side vocation of freelance writing for established gun magazines, as well as appearances on "Top Shot" and "Shooting Gallery," Sara seemed a natural choice when Beretta added to its blogger roster. As one of Beretta's bloggers, she also shoots Beretta guns. We think you'll enjoy learning more about this active mom, cop, communicator and friend of ours.
Barbara: How long have you been shooting?
Sara: Technically 21 years, but for enjoyment, 8 years.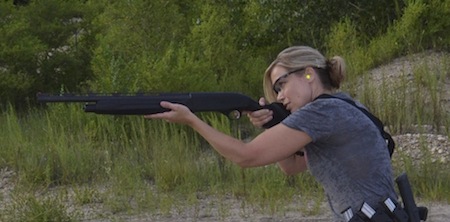 Sara Ahrens and Beretta's 1301. Photo courtesy of Sara Ahrens
Barbara: What Beretta gun do you shoot and what caliber?
Sara: I love the 12-gauge, 1301 competition shotgun, but I also have the FS91 and the U22 Neos that my son and I shoot a lot.
Sara Ahrens is on the pro staff of Prois Hunting and Field Apparel for Women. Photo courtesy of Mike Ahrens
Barbara: You not only shoot, you hunt … why do you hunt?
Sara: I initially started hunting because my husband did it and I wanted to spend time with him. Plus, I was paying for land that I wanted to use. After I became familiar with it, I found myself enjoying the time I spent in my tree stand with time to think. There is nothing more exciting than the adrenaline rush of seeing wildlife so close and them not being aware of your presence. I like to watch animal's behaviors.
Barbara: What do you tell women when they ask you why you shoot when you're not on duty-related training?
Sara: I tell them that it is empowering. In addition to the cut in staffing in police departments, as a result of financial woes coupled with increased liability, departments are starting to implement policies that dictate speeds, chases and conditions for entry during emergencies. Reponse times are increasing. In my city, the average response time is 6 minutes; however that is the time it takes for a call to be dispatched … so, this doesn't take into account the time calls hold. Calls hold until there are officers available. Even if dispatched immediately, 6 minutes is a long time. Women need to be comfortable defending themselves and to me that is the number one reason I shoot and think all citizens should. Women are typically victimized more then men, so it is especially important for them.
Sara Ahrens has spent more than 20 years on duty in law enforcement and brings a wealth of experience to Beretta USA's blog, as well as to The WON. Photo courtesy of Sara Ahrens
Barbara: What's the best way for a woman to get into the shooting sports?
Sara: Probably the best way to get involved in the shooting sports is to take an NRA class to learn the safety rules and basic functions of a firearm. Unsafe practices are dangerous and not tolerated. After the basics are learned, then attending and viewing an event is one good way to get involved. This can be intimidating for women, so a women-specific firearms class, or workshop can be a good way to learn the rules of specific shooting sports.
Barbara: Why do you like your Beretta?
Sara: I don't like my Beretta … I love my Beretta. The 1301 shotgun is the best shotgun I have ever shot. It is easy to manage the recoil and get back on target. The loading ramp doesn't trap my thumb and it is so much fun to shoot. I used to hate shotguns, but not with this one.
Barbara: What do you like to do when you're not shooting? Other hobbies, please?
Sara: I love to play tennis. Unfortunately, that requires a partner and my kids are back in school. I've been playing since 7th grade and was number one my senior year in high school. I also really like manual labor. I've had some time off lately and think I'd like to take a woodworking class. I love building stuff and working on my land before hunting seasons start. I find it therapeutic. I also love to bike. And my son and I are seriously into making survival bracelets. It has gotten to the point that we are planning to mold our own charms – that resemble zombies. We cannot wait to get the molding material in because the pewter and smelter are waiting to go!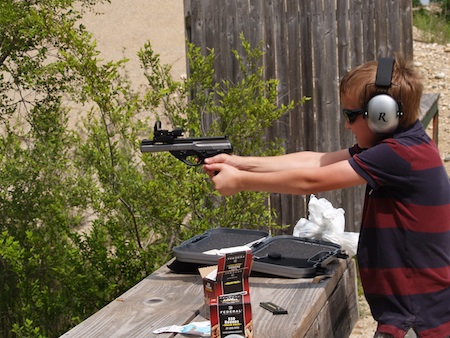 Like mother, like son! Sara's son shoots her NEOS safely and accurately. Photo courtesy of Sara Ahrens
Barbara: I heard that you're interested in 3-Gun competition … what are your plans on moving forward with that project?
Sara: Well, this year I was going to start, but I broke my back, so this season might be a wash. Finding local competitions have been difficult, too. I hope next summer to find some competitions, watch and learn the rules and jump right in. I think it will be challenging, but I love shooting all 3 guns.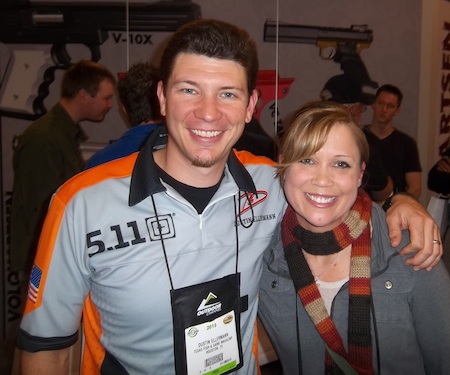 Here's Sara with fellow competitor from Top SHOT Dustin Ellerman. You might recall that Dustin beat Sara in a shoot-off, sending her home. He then went on to win the entire competition. Photo courtesy of Mike Ahrens
Barbara: Where may people follow you online?
Sara: There's always the comments' area at my column at The WON, and also, on Twitter: @SaraAhrens. You also may follow Sara at Beretta USA's blog.