By Barbara Baird, Women's Outdoor News
Mia burst onto the outdoor scene a few years ago – a mild, mannered go-getter from southwest Colorado who happens to hunt, shoot, fish and write about her experiences.
Mia Anstine, who pens her own blog and contributes to blogs at the Shooting Channel and Beretta, along with a column at "Western Whitetail" magazine, hails from southern California. She owns and operates Wolf Creek outfitters, Inc., with her husband, Hank, out of Pagosa Springs, Colo. The two provide hunts for elk, mule deer, Merriam's turkey and black bear in Colorado and New Mexico.
She's also an NRA-certified pistol instructor, NASP-certified archery instructor and "mentor to anyone who is willing to be influenced."
In her blog at Women's Outdoor News, Mia describes raising her daughter, aka Little Gal, a feisty teenager who excels at all-things outdoors. We thought you might like to know a little more about this up-and-comer in the outdoor world.
Barbara: What types of shooting do you engage in?
Mia: I am not a shooting snob; I enjoy all types of shooting. I shoot pistols, rifles, shotguns, bows or anything else that will launch a projectile.
Mia with her Silver Pigeon. Photo courtesy of Hank Anstine
Barbara: Which Beretta firearm do you shoot?
Mia: I love shooting the Beretta Silver Pigeon, over-under shotgun, because it is so well balanced. It is easy to swing and shoot at fast-moving targets. I prefer a 12-gauge model and knocked down a few doves with one this fall. It shoots flawlessly every time. An added bonus is that is simply a gorgeous gun.
Barbara: You write for Beretta's blog, what types of topics do you want to explore?
Mia: At Beretta Blog, I enjoy sharing a little about shooting and a lot about hunting.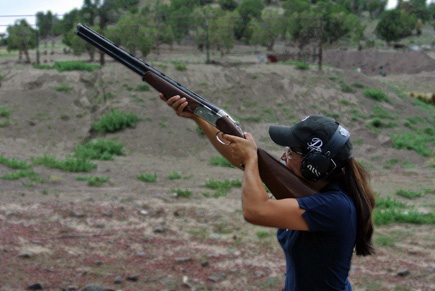 Mia shoots a left-handed Beretta Silver Pigeon. Photo courtesy of Hank Anstine
Barbara: What do you see happening in the industry – shooting and hunting – with the women's movement?
Mia: Over the past few years I have seen many women embracing shooting and hunting sports. I believe this is partially because of women, like myself, who have chosen to share the sports. We are attempting to show that women can be classy, tough or girly and still shoot guns. Ladies can be themselves and shoot for competition, pleasure or food.
Mother-daughter time is always precious. Photo courtesy of Mia Anstine
Barbara: Your daughter, Little Gal … please tell us about her evolution into becoming a hunter and a firearms' enthusiast.
Mia: My husband, Hank, and I have involved our daughter in hunting and shooting since she was very young. She used to tag along with me on bird hunts, cheering me on and helping me cook up a dinner. She took Hunter's Safety and began hunting as soon as she was old enough to pass the course. Now, I tag along with her and cheer as she brings home and cooks up dinner. She has progressed in her practice of shooting and has been shooting competitively for 2 years.
Visit Mia at her own blog, http://miaanstine.com; at Beretta, http://blog.berettausa.com; or at The Shooting Channel, http://theshootingchannel.com/author/manstine/ or at Women's Outdoor News, http://www.womensoutdoornews.com.