By Noe Roland, Shotgun Life
After months of anticipation the Nad Al Sheba Sporting Championship in Dubai set new high standards for a sporting clays tournament with an inaugural event that attracted more than 550 shooters from all four points of the compass. A total prize fund of $735,000 made it the richest clays shoot ever staged with cash paid out to 50th in the Men's Division and 30th in Ladie's, which provided plenty of motivation.
The tournament, held February 28 – March 5, 2014, was hosted by His Highness Sheikh Hamdan bin Mohammed bin Rashid Al Maktoum, Crown Prince of Dubai and Chairman of Dubai Sports Council.
Nearly 50 shooters endured the long trip from the USA to the Persian Gulf, and with a 10-hour time difference the rigors of jet lag meant that arriving with a couple of days to spare before the competition was well advised.
With the Emerati weekend running from Friday to Saturday, the practice day was held on Sunday. People heading to the venue were taken aback at the level of preparation that the organizers had indulged in. Thousands of flags lined the surrounding roads giving an indication of the opulence that was to follow with the reality certainly meeting expectations.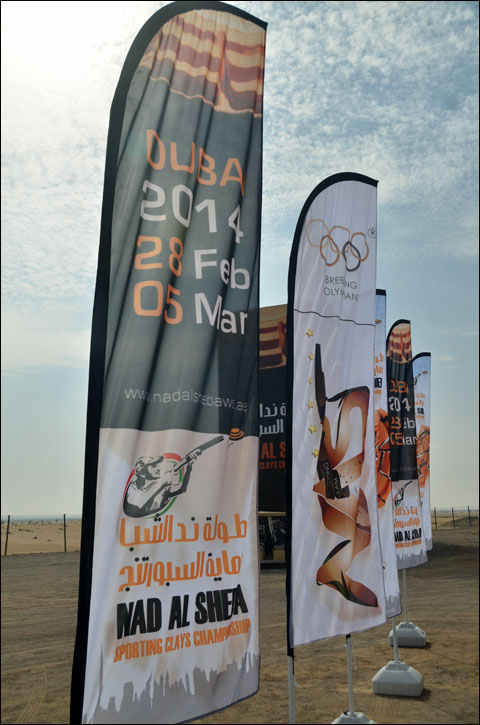 The pageantry at the Nad Al Sheba Sporting Championship in Dubai.
Walking up the steps into the main building provided an education on how to do things just right. A central area with low couches gave people a place to grab a power nap while off to one side there was another area for rest and relaxation while the other half of the large air-conditioned building was given over to the food hall, where a selection of gourmet middle eastern dishes were served throughout the day.
No expense had been spared to make the event stand head-and-shoulders above the rest. Even the draw prizes were something special with 20 mobile phones and 20 tablet computers being given away along with four SUVs with an approximate total of $100,000 in the prize pot.
The serious business began on the first day while most people were still licking their wounds after the 50-target practice session, which had proved harder than anyone had expected. Things didn't get any easier with plenty of distant targets going like bats out of hell — demanding bucketfuls of lead. The presentations made the toughest course back home look like a skeet shoot.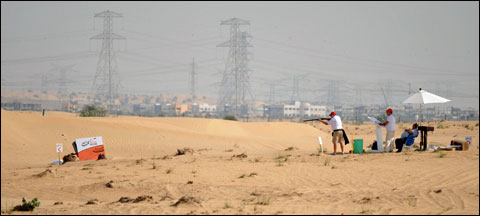 A practice session for Randy Travalia of the USA.
Getting on target over the desert sands was demanding for plenty of reasons. A range finder would have been useful. Trying to estimate just how far away over the featureless terrain both traps and targets were was extremely tough. With a stark contrast between the dark clays and the plain backdrop, the targets also appeared deceptively big with even a mini looking more like a midi because it showed up so well against the sand. Plenty of forward allowance was called for with more than 30 feet required, while a speedy gun was also needed otherwise targets could quickly fly out of reach. Plus the intense sun meant that many targets were difficult to pick up.
On day one of the competition Andy Duffy seemed impervious to the very high temperatures. The former Browning 725 shooter sure found that his new Krieghoff K-80 agreed with him as he blasted his way to a sweet pair of 22s that saw him out in front of Cypriot Theocharis Christodoulides, with Anthony Matarese, Jr. four targets back in eighth spot.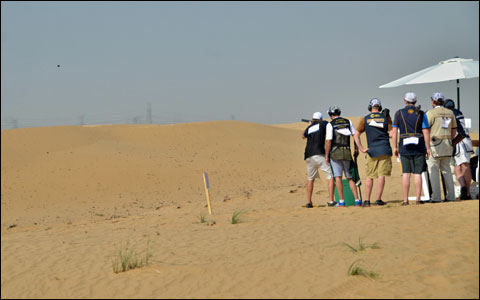 American Cory Kruse on Peg 1, Parcour 7.
The next day Gebben Miles and Matarese shot to top spots while Duffy had a tough day and dropped into the second half of the top 10. On day three, Matarese squeezed Miles out of the lead, which saw cloud cover bring slightly cooler temperatures. Brad Kidd, Jr. made up some ground and broke into the leading pack at sixth place.
The blistering sun returned for the last day and it must have suited Miles who finished up with a 165 that nobody had thought was possible on such a challenging course. Second place was a surprise showing by Jose Manuel Rodriguez Andujar of Spain who ended two targets behind, with Matarese third at 162. Scott Robertson's 161 landed him in fourth ahead of the UK's Sean Bramley and Christopher Broomfield.
The target presentations for the Super Final were harder than ever, but Miles held his nerve and the lead to finish on top and win a cool $140,000. Andujar and Matarese, who were tied, duked it out for second with Matarese ultimately winning the $65,000 purse. Bramley placed next followed by his countryman Broomfield. Scott Robertson of the USA had to settle for sixth place.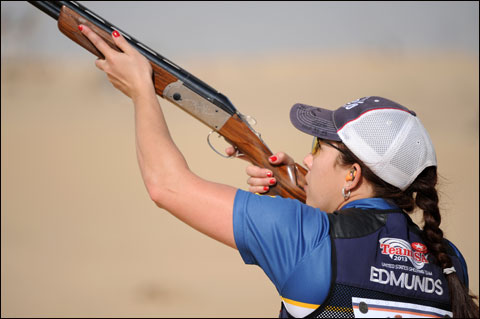 Desirae Edmunds compiled outstanding scores to place second at the Nad Al Sheba Sporting Championship.
In the Ladies division, it had been clear from the start of the shoot that Beatriz Lappara of Spain would be a strong contender. She held the lead throughout the competition, with her usual nemesis Cheryl Hall of England failing to gain any momentum. American Desirae Edmunds showed a great run to the finish and was only three targets behind Lappara at the start of the final round. That was the way it stayed with Martina Maruzzo of Italy in third, ahead of the English pair of Janine Preece and Hall with Inna Alexandrova of Russia taking fifth place.
The organizers have already confirmed that next year's shoot will have a $1 million payout with some 1,000 competitors anticipated — ensuring that every top shooter will be hoping to secure a slot on the starting line. Expect the next one to be even more special with plenty of cash being injected to make the wonderful facilities even better.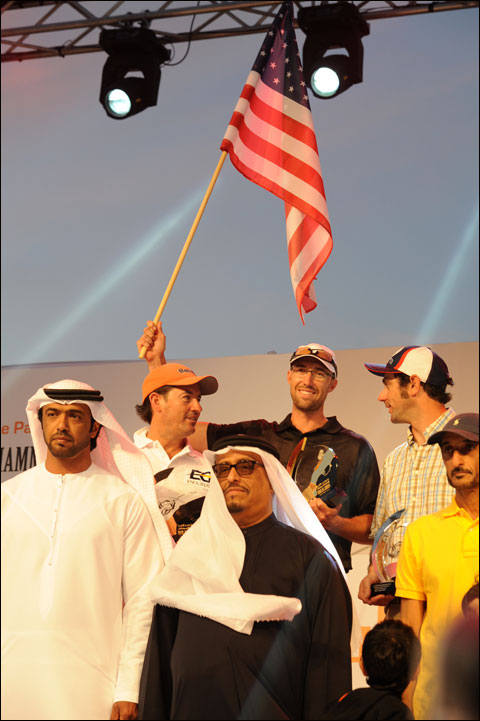 Winner Gebben Miles proudly displays the American flag. To the left is third-place shooter Jose Manuel Rodriguez Andujar with runner-up Anthony Materese, Jr. to the right.
Ahmed Al Maktoum, who was a successful bunker doubles shooter and Olympic Gold medalist, did a fantastic job of organizing the shoot and rumours abound that next years event will break from the FITASC format of this year. There's little doubt that whatever he decides will make the Nad Al Sheba Sporting Championship the number-one destination of the shooting world next February.
The Nad Al Sheba Sporting Championship gave an opportunity for several Pros of The Professional Sporting Clays Association (PSCA) to shine — presenting a sneak peek at what we can expect when the series begins to broadcast on NBC Sports April 5th and 6th.
With Miles and Matarese dominating the competition, nine other PSCA participants made strong showings in the tough event. Scott Robertson's fourth place earned $25,000. Other PSCA money-winners in the Men's Division included Kidd, Jon Kruger, Andy Duffy, Bill McGuire, Zach Kienbaum, Cory Kruse and Pat Lieske. The Women's Division saw PSCA Pro Edmunds take second place for $20,000 and Diane Sorantino capturing eighth place and earning $4,000.
Noe Roland is a frequent contributor to Shotgun Life. You can reach him at contact@shotgunlife.com. To get more scattergun news visit Shotgun Life – click here.