The filmmakers at Red Bull Media House are responsible for producing some of the most thrilling, action-sports documentaries on the planet.
From surfing, to snowboarding, to skateboarding and motocross, their films never disappoint. If the following clip is any indicator, their next offering is definitely par for the course.
WATCH:
Absolutely insane.
One foot to the right? Death. A few to the left? Death.
This is the literal definition of being stuck between a rock and a hard place.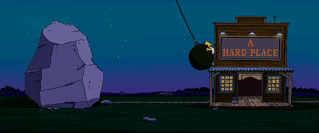 This scene was taken from RBMH's upcoming film, "Days Of My Youth." According to YouTube, the documentary, "exposes the many joys and occasional struggles associated with a lifestyle built around skiing. Filmed over two years using state of the art techniques and technologies, this movie offers a unique glimpse into the journey of self-discovery that every skier experiences."
I don't doubt it. Here's to hoping it's jam-packed with even more heart pounding runs.