New York Jets quarterback Michael Vick's latest business venture is on a killing spree.
The 12-year veteran bought a 40 percent stake in a hair brush company, and according to TMZ, that investment is about to seriously pay off. In the past year, "WaveMasterz" has seen a huge jump in sales following Vick's endorsement, and the company predicts they'll ship over 500,000 units this holiday season alone.
Vick and his business partner Bow Wow chose to invest in WaveMasterz after falling in love with the products themselves. "I love the WaveMasterz brush. … It's why I wanted to do more than endorse the brush, but be a part of this company," but Vick sees this growth as just the beginning. "Now, we have to make sure the production keeps up with the demand because the response, even as we launch has been amazing."
Vick isn't the only one who swears by the product. According to a friend, "it gives [Mike] a hell of a lot of dips … got his waves crashing."
I'm assuming that's a good thing.
In all seriousness, I'm glad Vick is doing well. I know he just lost the Jets starting job, but at least his finances are straight.
Vick is one of the few, fallen athletes who has made good on his second chance. After being released from prison in 2009, Vick has attempted to make amends for his mistakes and has become a productive member of society. He's deserving of any success WaveMasterz brings his way.
Also Mike Vick was, and will always be, my favorite player to watch in the NFL. No one had shake like that guy.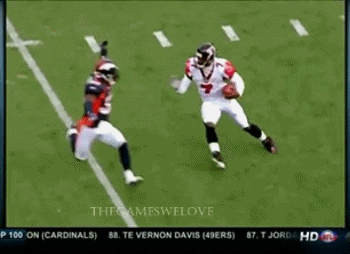 Spin cycle, baby.