Tim Tebow is a man of many talents, but being an NFL quarterback isn't one of them. (RELATED: Forget the NFL. Tim Tebow Should Play On The PGA Tour)
The former Florida Gator did win a playoff game as a member of the Denver Broncos back in 2011, but he's also known as one of the least accurate and mechanically unsound gun-slingers to ever make it to the league.
Apparently, none of that matters to Philadelphia Eagles head coach Chip Kelly. The second-year play-caller has made a bevy of — let's just say — questionable roster moves this offseason, and sources report he's set to sign Tebow to a one-year deal on Monday. (RELATED: ESPN Analyst Says Kelly's Off-Season Trades Motivated By Racism)
To be honest, I don't get this one at all — signing a fourth-string quarterback who hasn't been in the league for the past two years makes LITERALLY ZERO SENSE — so TheDC has compiled a list of players we all think would be better suited to spinning pills in the City of Brotherly Love than Timmy.
1) Jay Cutler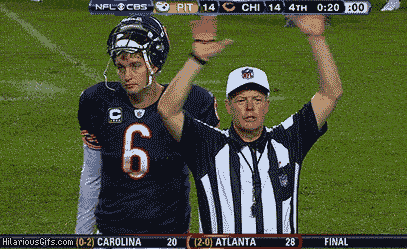 Recently, the Bears quarterback hasn't had the same on-field-success he's experienced in the past, but he hasn't been cut yet. And he has a smokeshow wife. Got to be doing something right. (RELATED: In Case You Wondering, Jay Cutler's Wife Is Still A DIME)
2) Shane Falco
If Keanu Reeves this former Ohio State Buckeye could lead Washington to the playoffs during a strike-shortened season, he can do anything. Also, his ability to "read blitz" could be instrumental in Chip's up-tempo offense.
3) Willie Beamen
WATCH (NSFW):
On any given Sunday, you can win or lose, so you might as well have someone with impeccable 90s fashion under center.
4) Junior Floyd
Junior is used to being the new kid in town, so adjusting to Kelly's West Coast play calls should be easy as pie.
P.S. — "What a hunk!"
WATCH:
5) This pretzel
6) Uncle Rico
He used to be able to throw a football over a quarter-mile. I don't care where you come from; that's impressive.
7) Johnny Utah
Keanu Reeves Another Ohio State QB. Championship pedigree mixed with law-enforcement discipline makes him the top choice.
Cons: spends most of the year traveling the globe in search of the perfect wave.
Pros: Extra point scenarios. He'll get you two, every time.