With Democratic presidential candidate Hillary Clinton silent on the Baltimore riots, records from a Clinton nonprofit illustrate at least one method the Clinton-world thinks can help save our inner-city youth: teach them chess.
The Clinton Global Initiative funded a program that for some reason has not worked on a mass level.
"ELEC-CHESS-ITY, A PROGRAM THAT TEACHES LIFE SKILLS TO INNER-CITY YOUTH THROUGH THE GAME OF CHESS" received a funding commitment from Clinton Global Initiative members in 2012 after the program was pitched at the Foundation's CGI University summit, according to the group's financial reports.
The "Elec-chess-ity" program was designed by University of Chicago student Dhrooti Vyas.
"Elec-chess-ity commits to teaching young people life skills including concentration, patience and critical thinking through the game of chess. Volunteers will teach elementary and middle school students in both Chicago and Ahmedabad, India," according to a George Washington University publication.
"From creating sustainable bamboo bikes to teaching young people life skills through the game of chess, these new CGI U commitments are 16 great examples of how college students are taking action to improve lives on their campus and around the world," former President Bill Clinton said in a statement at the time.
The Initiative also funded a program to embolden Haitians by having them build furniture out of plastic trash.
"BUILDING WITH BOTTLES, A SUSTAINABLE BUSINESS IN PORT AU PRINCE, HAITI THAT TRAINS MOBILITY-IMPAIRED INDIVIDUALS TO BUILD FUNCTIONAL FURNITURE OUT OF DISPOSED PLASTIC BOTTLES AND SELL THEM FOR A PROFIT," according to the financial reports.
So do you think the young people throwing rocks at police in Baltimore could just benefit from pushing some pawns around the chess board?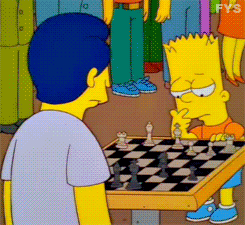 (Giphy)