Thursday's Braves-Padres game at Turner Field in Atlanta had one of the wackiest starts I've ever seen.
The first-pitch was pushed back due to bad weather in the area, and it didn't take long for play to stop again following the delay.
After throwing only ten pitches, Braves starter Julio Teheran plunked Padres right-fielder Matt Kemp, at which point all hell broke loose.
Benches clear at Turner Field. #MLB #Braves #Padres (https://t.co/h4OecBeQZF) pic.twitter.com/U07HP7HeMN

— Empty Seats Galore (@EmptySeatsPics) June 11, 2015
Thankfully, home plate umpire Jordan Baker swooped in to mitigate the situation by full-on planting Kemp on his ass.
WATCH: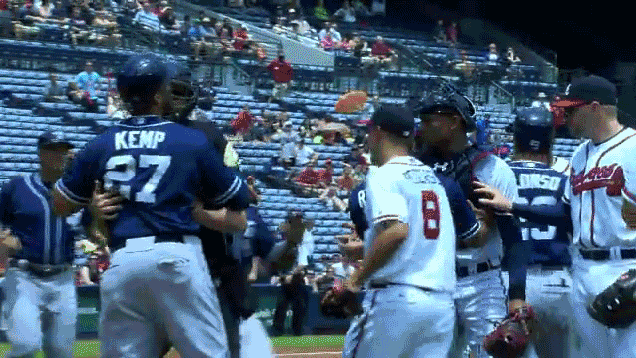 Ok, so it might have been more of a love-tap than a form tackle, but whatever. Kudos, Jordan.
Play would resume after the scuffle with no ejections.
[h/t: Deadspin]