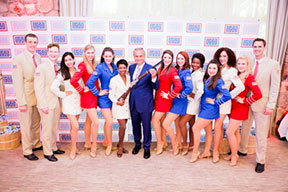 (NewsUSA) – "Made in America" matters; almost 80 percent of Americans would prefer to buy an American-made product instead of one made abroad, based on data from a national survey by the Consumer Reports National Research Center. The findings appeared in an article in the February 2013 issue of Consumer Reports magazine.
In addition, more than 80 percent of the survey respondents cited keeping American jobs and maintaining America's strength in the global economy as reasons to support American-made products.
Henry Repeating Arms, maker of repeating firearms based on the design that was patented in 1860, is one example of a company that takes pride in its American roots and gives back to the country and communities.
The company's Guns for Great Causes program includes a range of activities that benefit individuals and organizations of all sizes.
Examples of how the company has made a difference include a donation of two Henry rifles to a Missouri high school fundraiser to send the school choir to perform at Carnegie Hall, as well as a donation of 100 Henry rifles custom embellished with the Kansas state flower to benefit a sick 4 year old girl from Sedan, Kan. Henry is the lead sponsor of the Charlie Daniels' Volunteer Jam 40th Anniversary to benefit The Journey Home Project program for veterans. It has made donations to many medical charities, including the Peyton Manning Children's Hospital, the Roger Maris Cancer Center and the Ronald McDonald House. Within its industry, Henry supports the NRA, as well as many wildlife conservation and youth shooting sports organizations.
Henry Repeating Arms is one of many companies that support American troops via the USO and a multitude of charitable military organizations — such as the Marine Corp Scholarship Fund, Operation Homefront and Paralyzed Veterans of America. Anthony Imperato, president of Henry Repeating Arms, has personally thanked many veterans for their service with a gift of a Henry Military Service Tribute Edition rifle.
Extraordinary customer service is a key foundation of the company's success. Henry's Extreme Customer Service policy means that all customer service issues are handled in-house by a staff operating with a mandate from Mr. Imperato to do whatever it takes to make certain the customer is satisfied. The policy includes an unlimited lifetime guarantee on products, and Mr. Imperato responds personally to customer emails seven days a week.
For more information on Henry's Guns for Great Causes program, visit www.henryrifles.com.