Sen. Tom Whatley made good use of tax-payer dollars on Monday by introducing a resolution "urging Auburn University to claim nine national championships in football" to the Alabama state senate on Monday.
Seriously.
Per the Alabama Legislature:
WHEREAS, the Auburn University Tiger Football team has a rich and storied history on the gridiron dating back to 1892, when Auburn officially began competing in intercollegiate football; and WHEREAS, Auburn's first claimed national championship was in 1957, when Coach Shug Jordan's team finished the season with a 10–0 record, with the Associated Press naming the Auburn Tigers No. 1 in its postseason poll, marking the school's first consensus national championship in the modern era; and WHEREAS, Auburn's second claimed national championship was in 2010, when Coach Gene Chizik's team defeated the Oregon Ducks on January 10, 2011, in the BCS National Championship Game in Glendale, Arizona; and WHEREAS, in addition to achieving the pinnacle of success in 1957 and 2010, Auburn has demonstrated supremacy in seven other football seasons…

WHEREAS, all nine of these special seasons are held close in the hearts of Auburn coaches, players, and fans and should be embraced by the university as championship seasons; now therefore, BE IT RESOLVED BY THE LEGISLATURE OF ALABAMA, BOTH HOUSES THEREOF CONCURRING, That we call upon Auburn University to officially claim nine national championships in football to rightfully reflect the esteemed achievements and success of the Auburn University football program.
I'm not going to lie. As a UGA fan — GO DAWGS — I don't have a dog in the Auburn-Alabama fight, but THIS is why the Tigers will always be number two. Sen. Whatley — who represents, you guessed it, Auburn — is out here trying to con the school's way into garnering national respect.
Meanwhile, in Tuscaloosa: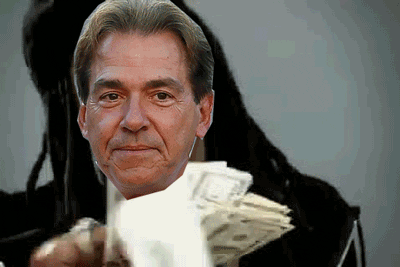 Go home, Auburn. You're drunk.