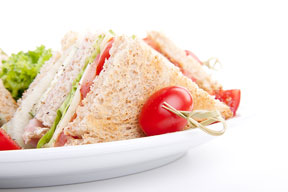 (NewsUSA) – As autumn temperatures move in, sidewalks are painted orange with freshly fallen foliage, cozy sweaters are taken out of storage and mouths begin to water for hearty dishes packed with fall-friendly ingredients. There's much more than pumpkin to freshen up your food: Make the most out of your fresh farmer's market picks and create seasonal sandwiches with these simple add-ins that blend all of your favorite autumn flavors.
* Butter-up: Pumpkin may be the star of autumn, but butternut squash is quick on its heels. Easy to prepare and packed with vitamins A and C, butternut squash adds a hearty sweetness to any dish. Give your sandwiches a seasonal makeover by creating custom spreads and sauces blended with butternut squash. From a roasted squash, manchego and balsamic-onion grilled cheese to a tangy goat cheese and squash spread on your favorite panini, this quick addition is sure to give any sandwich an extra burst of flavor.
* Gobble up extra protein: When the leaves start to fall, turkey takes center stage as the go-to protein for sandwiches, snacks and, of course, Thanksgiving dinner. But why wait for leftovers to enjoy a classic turkey sandwich? Lean turkey options help elevate sandwiches while still packing a nutritional punch.
"Look for turkey products that are lower in sodium and fat without sacrificing the amount of protein you get in each serving," says registered dietitian and cookbook author Jessica Fishman Levinson MS, RDN CDN. "A great option is Simply Delicious Slow Roasted Turkey Breast from Land O'Frost, which offers 8 grams of protein for only 50 calories per serving." Simply Delicious is certified as heart-healthy by the American Heart Association and contains no artificial flavors, by-products or added hormones.
* Apple a day: Apple picking is a favorite autumn past time, but what do you do with all those freshly picked apples after the pie is made? Use everyone's favorite seasonal fruit to brighten up a warm grilled panini or gourmet grilled cheese with a layer of homemade apple chutney or apple butter.
With these tips in in mind, you'll be able to incorporate your favorite seasonal flavors into an endless array of sandwich combinations. For coupons and more information about Simply Delicious products from Land O'Frost, visit www.landofrost.com.