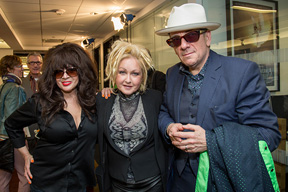 (NewsUSA) – Americans can listen to the radio via AM/FM, Internet, satellite, or cable TV. The music is the same, but payments to the artists are not. Internet radio pays musicians a small amount, but AM/FM radio pays them nothing.
Most experts agree that this policy doesn't fit the digital era, and many musicians say that it hurts performers and will continue to adversely affect the music industry.
"When many of us think of the song, 'Respect,' we think of Aretha Franklin," notes David Byrne of the Talking Heads. "Many people are shocked to learn that Aretha never made a penny from all the radio broadcasts of her performance. Many musicians receive little compensation or struggle to pay bills despite having widely-aired recordings."
Musician Sheryl Crow adds, "Dionne Warwick does not get paid for her beautiful recordings when they are played on the radio. She had to file for bankruptcy."
Artists' advocates, such as MusicFIRST, point out that AM/FM radio earns billions of dollars a year selling ads to listeners while musicians struggle to make ends meet.
A growing number of top stars including Rosanne Cash, Elvis Costello, Cyndi Lauper, Imogen Heap, Common, Elton John, and R.E.M., are taking the fight to Washington. Several of these artists helped launch the Fair Play, Fair Pay Act, bipartisan legislation that would pay musicians the same royalties no matter what kind of radio uses their work.
The National Association of Broadcasters claims that the Fair Play, Fair Pay Act is unnecessary, because artists are paid by the radio in "promotional value" or "exposure." But many artists disagree. Grammy-winning artist Rosanne Cash says, "Exposure is something you die of," and musicians deserve fair pay for their work.
Top U.S. Copyright official Maria Pallante also questions the decades-old justification for not compensating artists. "As consumer preferences shift away from music ownership, the potential for sales is becoming less relevant, and the promotional value of radio less apparent," she says.
Many artists believe the Fair Play, Fair Pay Act can and should become law.
"I support the Fair Play, Fair Pay Act because I love music and I think all musicians should be paid," says singer Cyndi Lauper.
"Every democratic country in the world pays musicians for radio play," says Cake's John McCrea. "We think the United States is a good enough country to do that as well."
To learn more, please visit www.musicfirstcoalition.org.