There are lies, and then there are Donald Trump lies.
Even in the realm of politics, Trump's endless stream of whoppers is extraordinary. This isn't the usual political fudging or mild exaggeration. Many Donald Trump lies are blatantly false.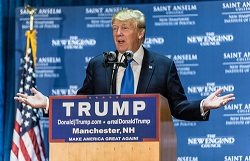 That raises some big concerns, mainly whether America could elect such an over-the-top liar as president.
It's also suspicious that Trump, a smart business executive, is so badly misinformed. It's likely that he knows better in most cases, but tells outlandish lies to get media attention.
Certainly, six months' worth of Donald Trump lies have not hurt him in the polls, and may even have added to his support.
That's because Trump typically lies about hot-button issues like immigration, terrorism, and the failures of the U.S. economy. He may be lying, but he's telling his supporters what they want to hear.
Since announcing his presidential candidacy in June, Trump has kept the nation's fact-checkers extremely busy.
And he consistently gets the worst ratings of any of the presidential candidates. Three out of four of the Trump claims checked by Politifact were rated "Mostly False," (13%) "False," (40%), or "Pants on Fire" (22%).
Here are the worst Donald Trump lies since his campaign began…
The Top 10 Donald Trump Lies
Donald Trump Lies No. 1 – Cheering Muslims in New Jersey on 9/11
In a November speech, Trump claimed to have seen "thousands and thousands of people cheering" in Jersey City, N.J., as the World Trade Center towers fell in the 9/11 attacks. On ABC's "This Week," Trump repeated the claim, adding that Jersey City had "a heavy Arab population." Except it didn't happen. The video Trump claims to have seen doesn't exist. At best, a handful of Muslims may have celebrated on rooftops. But there were no crowds of cheering Muslims in New Jersey on 9/11.
And here are nine more Donald Trump whoppers…
Donald Trump Lies No. 2 – President Obama Will Admit 250,000 Syrian Refugees
Trump made this claim in November, somehow multiplying by a factor of 25 the 10,000 Syrian refugees the United States has actually agreed to accept. It's impossible to say where Trump came up with this. Secretary of State John Kerry has said that in 2016, the U.S. might increase the number of global refugees it takes in from 70,000 to 85,000. But even that world total is about a third of Trump's figure for Syria alone.
Donald Trump Lies No. 3 – "Real" Unemployment Is 42%
In a Sept. 28 press conference in which he unveiled his tax plan, Trump derided the official U.S. unemployment rate of 5.3% as "the biggest joke there is in this country." He then cited the alarming figure of 42%. We actually agree with Trump that the official jobless rate is a joke, but it certainly is not 42%. The government's broader U-6 unemployment figure is 10.3%. Shadowstats.com, a website devoted to debunking government statistics, pegs the true unemployment rate at 22.9% – almost half of what Trump is claiming.
Donald Trump Lies No. 4 – The Washington Post Is a Tax Shelter for Amazon
On Monday, Trump fired off a tweet claiming that Amazon.com Inc. (Nasdaq: AMZN) CEO Jeff Bezos bought The Washington Post to create a tax shelter for the Internet retailer. Of course, since both companies currently lose money, that couldn't work. Plus, Amazon doesn't own The Washington Post, so their finances are separate. And this is the guy who built a multibillion dollar real estate empire?
Donald Trump Lies No. 5 – China Is the Big Winner in the TPP Trade Deal
In the fourth Republican presidential debate, Trump attacked the new Trans-Pacific Partnership trade deal. "The TPP is horrible deal," Trump said. "It's a deal that was designed for China to come in, as they always do, through the back door and totally take advantage of everyone." The problem here is that China is not a party to the TPP. It actually stands to lose from the deal, which will encourage more trade between the United States and other Pacific nations such as Malaysia, Japan, New Zealand, and Vietnam.
Donald Trump Lies No. 6 – Most Murders of Whites Committed by Blacks
This wasn't something Trump said, but rather a graphic that he retweeted on Nov. 22. Still, his retweet suggested that Trump believed it. The graphic contained several bungled statistics on murders by race in the United States. In particular, one line said that 81% of whites murdered in 2014 were killed by blacks, when the reverse is true – 82% of whites were killed by other whites. Two days later, Trump told Bill O'Reilly on Fox News' "The O'Reilly Factor" that the graphic came from "sources that are very credible."
Donald Trump Lies No. 7 – The U.S. Gross Domestic Product Fell Below Zero
In his June presidential announcement speech, Trump said that GDP for Q1 "was below zero. Who ever heard of this? It's never below zero." The statement showed a bizarre misunderstanding of the GDP statistic, typically expressed as a percentage of growth. GDP for Q1 was -0.7%, which means the economy shrank. The United States has had negative GDP growth 42 times since 1947. Trump seems to be confusing this with the total dollar figure for GDP, which is counted in trillions and of course can't go below zero.
Donald Trump Lies No. 8 – Mexico Sends Its Worst Citizens to the United States
An early Trump campaign staple was his assertion that the Mexican government has been forcibly sending the "bad ones" to the U.S. as immigrants. A Politifact investigation found no evidence of a Mexican government policy forcing anyone to migrate to the United States. Mexican immigrants come to America on their own, most to find work or join family members already here. How to deal with that issue is a different question, but Trump's claim is utterly false.
Donald Trump Lies No. 9 – A Packed House in South Carolina?
At a September campaign event, CNN reported that many seats in the room were vacant – and showed the video to prove it. Trump berated CNN reporter Randi Kaye as "absolutely horrible" and claimed that half of the enthusiastic crowd rushed the stage when he appeared, leaving their empty seats behind. But all the video and photo evidence showed otherwise. Most of the empty seats CNN showed were just as empty in the minutes right before Trump appeared.
Donald Trump Lies No. 10 – The 9/11 Hijackers Sent Their Wives Home
Over the weekend, on CBS' "Face the Nation," Trump claimed the 9/11 hijackers "put their families on airplanes a couple of days before, sent them back to Saudi Arabia. … Those wives knew exactly what was happening." The problem for Trump is that just two of the 9/11 hijackers were married. And the 9/11 Commission found no evidence either even visited the United States. The rest of the hijackers were unmarried, although one had a Turkish girlfriend who lived in Germany. What's more, the hijackers had cut off contact with their families a year before the attacks. No one knows where Trump got this crazy idea.
Follow me on Twitter @DavidGZeiler or like Money Morning on Facebook.
A "Make America Great" Profit Play: One campaign point Donald Trump is right about is the sorry state of America's infrastructure – its roads, bridges, airports, and more. And savvy investor that he is, Trump has already sunk $1 million into a company that figures to profit handsomely from the rebuilding of America's infrastructure. This is a $57 trillion opportunity…
About Money Morning: Money Morning gives you access to a team of ten market experts with more than 250 years of combined investing experience – for free. Our experts – who have appeared on FOXBusiness, CNBC, NPR, and BloombergTV – deliver daily investing tips and stock picks, provide analysis with actions to take, and answer your biggest market questions. Our goal is to help our millions of e-newsletter subscribers and Moneymorning.com visitors become smarter, more confident investors.To get full access to all Money Morning content, click here.
Disclaimer: © 2015 Money Morning and Money Map Press. All Rights Reserved. Protected by copyright of the United States and international treaties. Any reproduction, copying, or redistribution (electronic or otherwise, including the world wide web), of content from this webpage, in whole or in part, is strictly prohibited without the express written permission of Money Morning. 16 W. Madison St. Baltimore, MD, 21201.