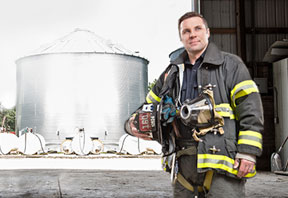 (NewsUSA) – Sponsored News – A few seconds. That's how long it takes for someone to become engulfed in flowing grain, unable to breathe, unable to get out. In one minute, a worker can become completely submerged.
In 2014, 38 documented entrapments resulted in 17 deaths, according to Purdue University, surpassing 2013 numbers of at least 33 entrapments and 13 deaths.
Overall, more than 800 serious entrapment cases have occurred since 1970, according to William E. Field, a professor of agricultural and biological engineering at Purdue and the country's foremost expert on grain storage accidents. A count, he told The New York Times in an interview, that is likely shy by hundreds because many go unreported.
"Grain entrapments kill workers," said David Michaels, assistant secretary of labor for the Occupational Safety and Health Administration, in an interview with The New York Times. "There is absolutely no excuse for any worker to be killed in this type of incident."
To promote safety in what has historically been considered one of the most dangerous industries in America, Nationwide — the No. 1 farm insurer* — is collaborating with industry agricultural leaders and professionals. They are launching a third annual safety contest as part of this year's Grain Bin Safety Week.
The Nominate Your Fire Department Contest runs from Jan. 1 through the end of May and will award grain rescue tubes and hands-on training to help first responders save lives.
"Grain bin accidents can tragically impact individuals, families and entire communities," said Brad Liggett, president of Nationwide Agribusiness. "Accident prevention means everyone working together, and Grain Bin Safety Week provides a forum for the agricultural community to help keep people safe."
During the last two years, the national contest awarded tubes and training to 13 fire departments in 12 states. One of those winners –the Westphalia Fire Department in Kansas — used its new skills last year to rescue a man who had become entrapped in some grain.
"That's where Grain Bin Safety Week can help," Liggett said. "This program brings attention to life-saving extraction methods and procedures, which can improve responder and victim safety."
For more information, visit www.grainbinsafetyweek.com.
You can also contact Christopher Stollar at stollac1@nationwide.com or (614) 677-5711.
*Source: 2014 SNL Financial Report. Based on statutory data.