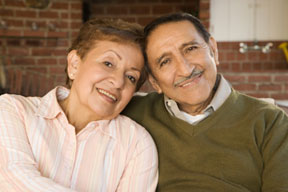 (NewsUSA)

– Sponsored News – Could you be at risk for COPD, chronic obstructive pulmonary disease? As the third-leading cause of death in the U.S., it's quite possible that you are. COPD is estimated to affect 24 million people nationwide, but half remain undiagnosed and unaware of the symptoms, risk factors and treatment options.
COPD is a lung disease that restricts air flow and affects a person's ability to breathe. While the biggest risk factor for COPD is long-term cigarette smoking, other risk factors include frequent respiratory infections and exposure to second hand smoke, dust or chemicals.
Most people begin to feel COPD symptoms between 50 and 70 years of age, including:
* Frequent cough
* Cough with mucus (phlegm)
* Inability to engage in normal physical activity due to shortness of breath
* Blueness of the lips or fingernail beds
* Frequent colds and nose and throat infections
"COPD occurs in both men and women regardless of ethnicity, residency and background," says Mark J. Rosen, medical director at the American College of Chest Physicians. "Recent research from the Centers for Disease Control and Prevention also found that Hispanics are less likely to report symptoms of COPD than non-Hispanic whites and blacks. While education for everyone is important, emphasis within the Latino community is critical."
The Hispanic population is quickly becoming the largest minority segment in the U.S. With this growth, the rise in emergency room visits of U.S. Hispanic patients with COPD is double the rate of non-Hispanic patients. Early diagnosis and treatment of COPD can prevent rapid and serious worsening of the disease, and the need for emergency treatment.
The Tome Un Respiro campaign, presented by the CHEST Foundation, AstraZeneca and Sunovion, provides free educational resources in Spanish, urging the Hispanic community to understand the symptoms of COPD, get screened and put a treatment plan in place, if necessary. For more information, visit TomeUnRespiro.com.
There is no cure for COPD, but early detection can significantly improve quality of life for patients. If you think you might be at risk, visit your health care provider to perform a simple breathing test called spirometry.