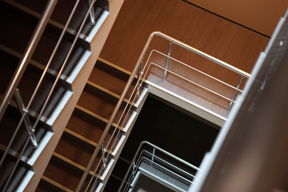 (NewsUSA)
– Feeling intimidated by your staircase? You're not alone. Nearly every house has one, and yet, stairs continue to prove a top hazard in millions of homes, resulting in an increased risk for serious injuries that can result in lifelong pain.
Difficulty moving is not resigned to only senior citizens. However, according to an article published in the Archives of Physical Medicine and Rehabilitation, the elderly are at high risk for trips or falls.
Going downstairs is often considered most dangerous, though it may be going up, or a combination of the two, when injury occurs. A slower gait, off-kilter balance and a loosening grip, all fairly normal symptoms of the aging process, can turn a staircase into a caution zone for senior citizens.
In instances where more serious mobility problems are present, stairs are quick to reveal them and actually prove to be one of the first warning signs. In some cases, a staircase will restrict movement altogether. Seniors can suddenly find themselves unable to move about their own homes without the constant care of a spouse or family member.
If stairs are unavoidable, are aging homeowners forced to undergo an expensive remodeling? What solutions are available for this growing demographic?
Start by discussing any mobility concerns you may have with your doctor. After a professional consultation, consider how you might make your home a safe space once again. You may find the solution you are looking for is a custom stairlift.
Acorn Stairlifts are both easy to use and easy to maintain. This affordable model is designed to fit directly onto your stairs, so that no expensive or burdensome remodeling is required. Plus, next-day installation guarantees a fast solution to a critical problem.
Take control of your life by turning your home into a retreat that is easy to navigate on your own. For more information about Acorn Stairlifts, visit www.acornstairlifts.com today.