By Irwin Greenstein, Shotgun Life
A quail covey exploded from the wire grass and Jarrett Lafferty straightaway downed a double with the 20-gauge Krieghoff Essencia side by side. As Area Chairman of Ducks Unlimited from Tallahassee, Florida he has hit plenty of game birds on the wing with shotguns. Still, he was impressed with Krieghoff's $29,895 game gun and immediately dubbed it "the meat stick."
The nickname stuck throughout the day at Southern Woods Plantation in Sylvester, Georgia, as our group took turns with the Krieghoff Essencia on bobwhite quail.
Our "Peer Review" of quail-hunting enthusiasts would form a consensus on a shotgun often overlooked by affluent upland hunters. Think of Best Guns and the marques that come to mind are the usual suspects from England and Italy. But from Germany? And from Krieghoff – the company renown for exceptional sporting shotguns and dangerous game rifles? (Yes, the Essencia is also available as a single-shot rifle and since 2015 as a dangerous game double rifle.)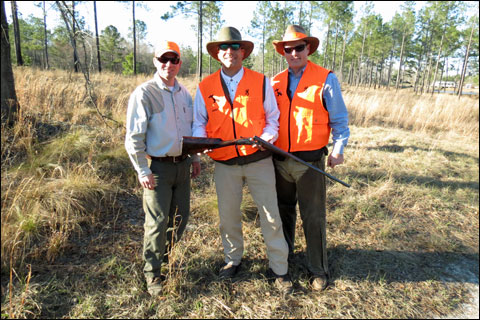 A few members of our Krieghoff Essencia Peer Review Team. From left: Davisson Dunlap III, Jarrett Lafferty (holding the Essencia) and Tom Harrison.
The Krieghoff Essencia round body has all the qualifications of a best-class shotgun, while some might argue that the base $29,895 price tag may be too low for inclusion where $60,000 and upwards is routine. Accordingly, Krieghoff's Essencia may be viewed as an odd duck, although the hand-finished sidelock could also be considered a supreme bargain by comparison.
Krieghoff marries computer-controlled machinery with hand finishing in the production of each Krieghoff Essencia. The scaled frames are machined from of a block of steel. The barrels are cold hammer forged. In terms of assembly, the fitting of the parts is done by hand. It's available in 12, 16, 20, 28 gauge and .410 with barrel lengths of 28 and 30 inches, with other barrel lengths available on request. In 2007 the Krieghoff Essencia became available as a 28-gauge Small Frame that also accommodates the .410. Average weight is a nimble 6¼ pounds. Expect delivery times of about 12 months for bespoke models, although some dealers have Krieghoff Essencias ready to purchase.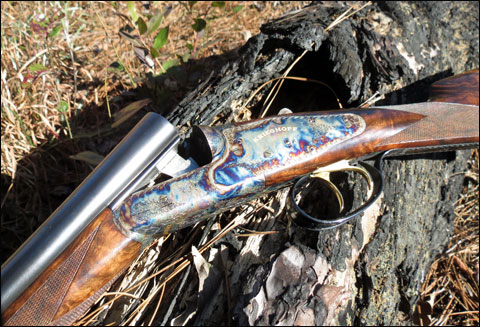 The 20-gauge Krieghoff Essencia in the quail-hunting fields of Southern Woods Plantation.
The Krieghoff Essencia gives a nod to British best with its Purdey-style third fastener, Holland & Holland style ejectors and fine English scroll engraving with gold accents on the case-colored receiver. You can order the traditional British straight stock or Prince of Wales relaxed grip, both finished with hand-rubbed Tru-Oil that deepened the figuring contrast in the Turkish walnut. Rather than affix a separate wood butt plate, Krieghoff actually checkered the end of the stock for a seamless elegance that complemented the rounded receiver and splinter forend. In profile, the Krieghoff Essencia's lines and proportions exemplified the side by side ideal.
Inside, the mainspring of the Krieghoff Essencia is mounted rearward (as opposed to the muzzle), making it a back-action sidelock. The payoff is a slender profile for superior control and enhanced sight picture on acrobatic game birds.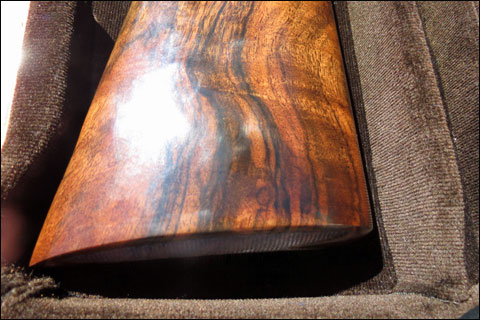 Rather than show a seam between the stock and a checkered butt plate, Krieghoff took a more elegant approach of checkering the end of the stock.
Our Essencia proved an eye-catcher. The case coloring, a variegated caramel and blue-rose, showcased light coverage of acanthus and bouquet sprays that flowed to the long top and trigger tangs and fences. "Krieghoff" was applied in gold. Double triggers felt agile and supple – flawless in execution. Shoulder the shotgun for a flushing covey and the auto-safety easily slipped forward in the blink of an eye. The Krieghoff Essencia exhibited an inherent sense of superb timing as the individual components worked harmoniously – fulfilling the promise of a best gun. And after the shots, ejectors discharged hulls with authority.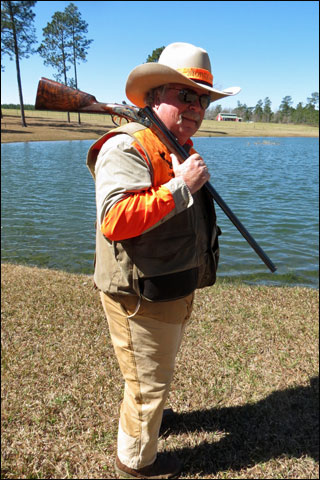 Monty Lewis participated in our Peer Review Team for the 20-gauge Krieghoff Essencia.
The 28-inch barrels, choked improved cylinder/modified, were a tad tight for close-quarter quail – unless of course you tended to shoot like me and really needed that tighter second barrel. Personally, I downed one bird flying low at some 40 yards and during the course of our experience several compatriots made impressively long shots with it.
So what was the verdict on the Krieghoff Essencia? Our crew shared their opinions.
Davisson Dunlap III, Partner, Dunlap & Shipman Attorneys at Law
"I liked the gun a lot. Visually, it was beautiful. It comes up so easy and smooth. The balance…it handled like an over and under. You'd never notice it was a side by side
G. Tom Harrison, Jr., Principal, Lanigan & Associates, P.C., CPAs & Consultants
It was as fine a gun as I've ever shot. I didn't feel like I had to push it, it just did what I asked it to do. It was a beautiful gun, how it looks, but more the way it felt − very high quality."
Jarrett Lafferty, Area Chairman, Ducks Unlimited
"It was very balanced in the swing and feel. It moved well. The gun was fast and it was easy to acquire targets and execute the shot. It's an all-day gun that was deadly. I'm calling it the Meat Stick."
Monty Lewis, President, Plantation Propane & Petroleum
"The appearance and finish are top drawer. The balance was nice. The integral butt plate was truly unique. It had a beautiful case hardened finish and the checkering was exceptionally well done. I would have preferred choke tubes for more versatility. The action was tight, but I didn't have to struggle with it, it closed easily with no resistance. I made some long shots with it, upwards of 40 to 50 yards."
Irwin Greenstein is the Publisher of Shotgun Life. You can reach him at contact@shotgunlife.com. Click here to visit ShotgunLife.com.