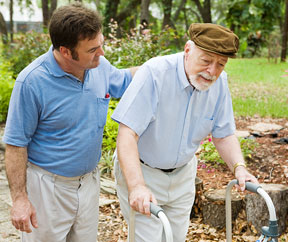 (NewsUSA)
– Sponsored News – Many older adults want to remain in their homes as they continue to enjoy good health and independence. However, some activities of daily living, including household chores, become more challenging with age because of factors such as slower gait, impaired balance, reduced mobility, and reduced muscle strength.
Some chores that challenge seniors include:
* House cleaning. Cleaning takes longer for older adults who move more slowly, and it can be painful, even dangerous, for those with arthritis or other mobility problems to try to stand on ladders to reach dusty spots, or to get down on their hands or knees to reach under and around furniture. Some solutions include telescopic feather dusters that do the stretching and reaching. In addition, long-handled broom and dustpan sets make sweeping easier, and long-handled grabbers help pick up fallen items.
* Grocery shopping. The once-simple task of going to the grocery store and getting the groceries home becomes more complicated with age, as older adults cope with reduced muscle strength, grip strength, and coordination. Some options to make this task easier include shopping backpacks designed to fit on wheelchairs or scooters, shopping bags with ergonomic handles, and shopping bags with wheels that for those who have difficulty lifting and carrying bags.
* Navigating around the house. Stairs become a challenge for many older adults who want to remain in their longtime homes, but modifications, such as stairlifts, make it possible for them to remain in their longtime homes. When choosing a stairlift, seek out a reputable company, such as Acorn Stairlifts, whose products can be installed with no damage or adjustment needed to a home's existing stairs or interior design. The stairlifts are designed for quiet, efficient operation, powered by two small 12-volt batteries under the seat or by regular house current.
All models of Acorn Stairlifts include multiple safety features, including sensors on the foot platform that will stop the lift when triggered. The chair and built-in footrest typically fold up when not in use, and the stairlifts include safety belts, lockable swivel seats, and light touch controls for easy operation for those with limited manual dexterity.
For more information on stairlift selection and installation, visit www.acornstairlifts.com.