By Irwin Greenstein, Shotgun Life
Chris Batha's British Ordnance Company originated from a happy accident that brought to market a bespoke tour de force attractively priced at $32,000.
The British Ordnance Company 20-gauge over/under we evaluated is the latest shotgun from the irrepressible Mr. Batha. He hails from England and has a part-time residence in South Carolina. Mr. Batha is our most prominent impresario of the English shooting tradition. He's a gunmaker, author, instructor, outfitter, TV personality, sporting clays course designer and bumble bee of sorts who cross-pollinates relationships within the sporting life ecosystem.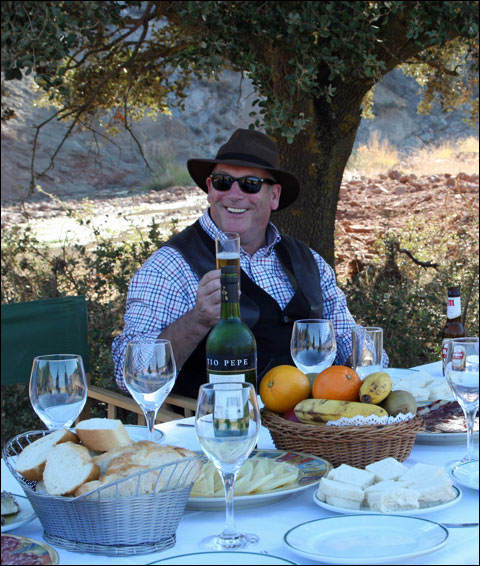 Chris Batha
–
Currently, he owns two companies that produce exceptional shotguns. His Charles Boswell is the continuation of England's 19th century marque that today makes custom side by sides and over/unders in the old-world Guild tradition starting at about $85,000. Then there's the Italian-derived British Ordnance Company whose bespoke over/unders are available for some $32,000.
Mr. Batha's British Ordnance Company launched in 2013 to save a derailed venture with Orvis. The messy affair started when an Orvis manager contacted Mr. Batha about supplying a high-grade model destined for the Orvis green oval. Mr. Batha tapped Steve Sidiki, American importer of the Italian Perugini & Visini shotguns and rifles, to collaborate on the project. By the time their Boss-style boxlock was completed to Mr. Batha's specifications, the Orvis contact had taken flight and upper management lost interest.
Meanwhile, the Orvis prototype turned out beautifully. In fact, it looked like an opportunity waiting to happen. With Orvis on the wayside, Mr. Batha and Mr. Sidiki believed the market was pre-disposed for a British-inspired bespoke shotgun that addressed the niche of $30,000 to $35,000 – a sandbox they could keep busy with Mr. Batha's Rolodex, international itinerary and consummate salesmanship.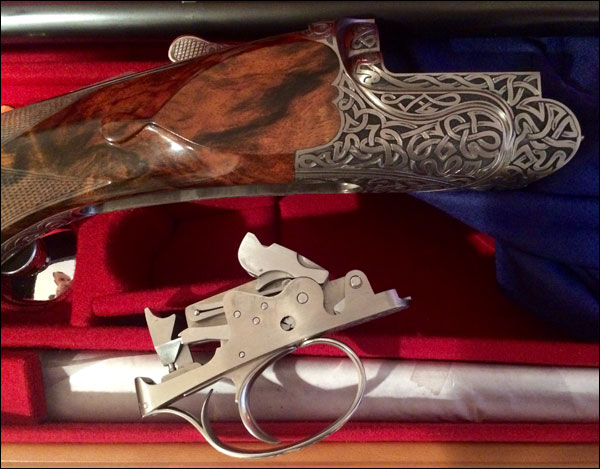 The British Ordnance Company 20-gauge with detachable trigger group.
–
For Mr. Batha and Mr. Sidiki P&V proved a wise choice. Master Italian gunsmiths Messrs. Perugini and Visini joined forces in the 1960s to hand-craft exquisite long guns. Over time, they installed digital CNC machining technology. P&V started using their infrastructure to private-label premium shotguns. Notably, in 2005 James Purdey & Sons commissioned P&V to manufacture the breakthrough Purdey Sporter.
Over the years P&V became one of Italy's largest independent shotgun and rifle operations by augmenting their own manufacturing with behind-the-scenes servicing for popular European houses. Aficionados overseas appreciated P&V's gorgeous sidelocks and boxlocks for upland and clays. In the U.S., though, P&V remained largely unknown − its firearms available here through a small network of premium dealers.
But Mr. Batha is the ultimate insider. He understood from the get-go that P&V could execute the erstwhile Orvis shotgun in the necessary quantities. For starters, Mr. Batha brought an ex-Purdey action filer, Richard Barnes, to reshape the P&V Maestro Imperial. Notably, Mr. Barnes rounded the bottom edges for a fluid form and improved ergonomics.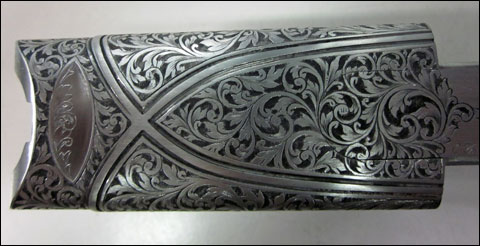 The bottom of a British Ordnance Company 20-gauge action in progress, as engraved by Italian Master Claudio Tomasoni.
–
The vertical seam between the receiver and stock of the Maestro Imperial had been scalloped into windswept curves, which accented by the bold Celtic knot engraving by Diego Bonsi, achieved the Celtic identity Mr. Batha wanted. He went a step further by adding a stunning oval grip cap that blended the Celtic knot with the British Union Jack and "British Ordnance Company."
Mr. Batha changed the long trigger tang to his preference but kept the Maestro Imperial Prince of Wales stock, select Turkish walnut with fine checkering, Boss-style forend and detachable trigger group with adjustable shoe. Teague or Briley chokes are available, although the model we shot at Orvis Sandanona had fixed chokes on the 30-inch barrels with elongated forcing cones topped by a vented rib.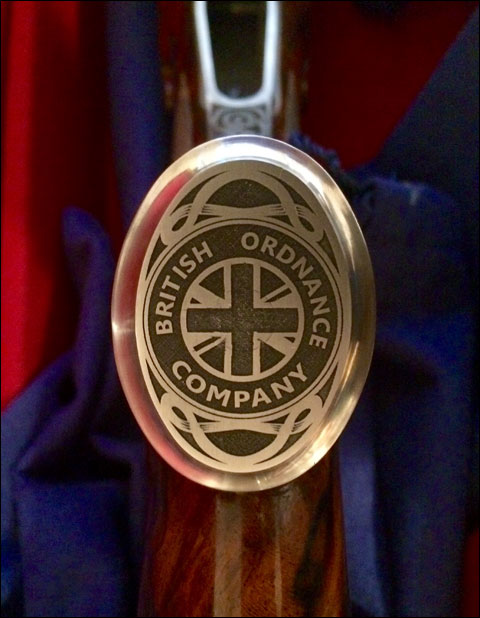 The highly coveted British Ordnance Company grip cap.
–
"I wanted to make a bespoke gun that's affordable like high-grade Perazzis and Berettas," said Mr. Batha.
That means clients can order any gauge, barrel configuration and stock dimension – even visiting the factory in Italy to meet some of the craftsmen who work on their gun. The delivery time would be six to nine months.
"A machine-made gun can never have the handling of a bespoke gun," Mr. Batha said. "We wanted to give it a life of its own."
Ultimately, by tweaking the Maestro Imperial Mr. Batha aimed to replicate the characteristic handling and balance of British best guns that occupy the province of six-figure prices. Given his encyclopedic knowledge of shotguns the bar would be markedly high.
We brought his shotgun onto the sporting clays course of Orvis Sandanona in upstate Millbrook, New York. The targets thrown in the leafy environs are emphatically challenging, as though sprung and angled for the Type-A professionals that frequent from nearby New York City − who are candidates for the British Ordnance Company.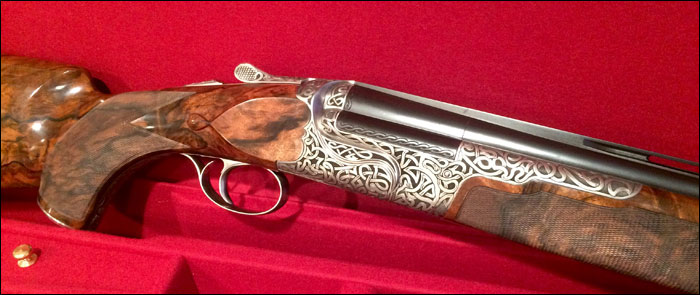 The British Ordnance Company 20-gauge in its luxury case.
–
We realized immediately that the British Ordnance Company shotgun yielded extremely low recoil. We found out later that Mr. Batha precluded the problem by changing the angle of the internal stock bolt from the original Maestro Imperial.
Having shot Holland & Hollands and Purdeys in the past, we believe that Mr. Batha came extremely close to matching the effortless, balanced characteristics of those British best guns. The British Ordnance Company shotgun mounted and swung lively in the spirit of a classic upland over/under. Its trigger was smooth and controllable. The shotgun felt like it would certainly be an asset for wingshooting.
Certainly the workmanship was up to snuff. The British Ordnance Company over/under was a mighty piece of eye candy with fantastic wood, compelling engraving and lovely proportions. The seams lined up tightly. The shotgun opened and closed easily. And if ever a shotgun could be described as sexy, it would be this one.
In the end, bear in mind that Mr. Batha started with an Italian production shotgun; determine for yourself if the marginal difference in the overall shooting experience and appearance between a luxury brand and the British Ordnance Company is worth an extra $60,000.
To find out, you may want to contact Mr. Batha at chrisbatha@aol.com.
Irwin Greenstein is the publisher of Shotgun Life. You can reach him at contact@shotgunlife.com. Click here to visit ShotgunLife.com.