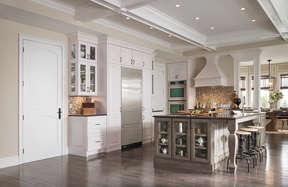 (NewsUSA)
– Sponsored News – When building or renovating a home, the use of interior finishings can help create a finished and unique look . Interior finishings can include trim or moulding, wall treatments, interior doors, posts and columns, stairway systems, and ceiling treatments. Here are some tips and tricks from interior design experts at Metrie to help you choose the best interior finishings based on your style and home:
* STYLE: There are endless options when it comes to moulding profiles. It's important to consider the style of your home, both inside and out when selecting the right moulding, along with the lifestyle, personalities and design preferences of those living in the home. Metrie has a fantastic online resource at Metrie.com called Room Styler to help guide the selection process.
* TYPE: Primary trim is used in most home installations and includes baseboard, casings and crown mouldings. They are the most functional trim elements and help set the tone of a room. Design enhancing trim such as chair rail, panel moulding and architraves add extra dimension and flair to any room. Ornamental trim, a decorative trim, helps warm up a space; corner blocks, plinth blocks, rosettes and Ikons are part of this category. To help ease the chaos of choice, Metrie has designed the Then & Now Finishing Collections, the industry's first coordinated finishing elements consisting of moulding, trim and interior doors sized and proportioned to fit together with ease and precision.
* MATERIAL: Choose a material based on application and the finished result desired — options can range from solid wood species, to MDF to faux wood and flexible moulding options.
* SIZE: The choice should be based largely on the ceiling height of the room. In many cases, there are complementary profiles that can be used in a home with varying ceiling heights. The size may vary, but the style should remain consistent room to room.
* APPLICATION: Trim can be used in a number of non-traditional ways, such as creating door headers, wall treatments or frames, and can be layered or built-up for a unique or custom look. Planning the design in advance can ensure that all of the necessary products are ordered at one time, reducing down time in the project.
For additional design inspiration and tips, please visit www.metrie.com.