By Irwin Greenstein, Shotgun Life
Suppose you were a connoisseur of fine shotguns. And suppose you possessed a vision of the best way to sell those beautiful firearms to fellow disciples of the shotgun sports. And finally, let's suppose you were a successful retired banker with the time and resources to make your vision a reality.
Well, Barry Rich is that guy. He's the impetus behind the new Double Guns of Nashville – a purveyor of exceptional shotguns from top-shelf manufacturers such Krieghoff, Blaser, L'Alter Verney-Carron, Cosmi, Grulla and Guilio Bernardelli.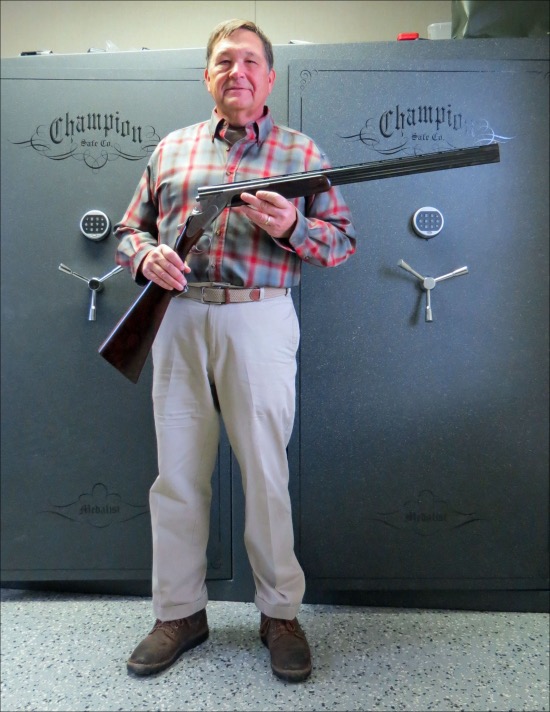 Barry Rich with one of his fine shotguns at Double Guns of Nashville.
"I have a big interest in traditional, side-by-side, double trigger shotguns," said Mr. Rich. "I've been thinking about something like Double Guns of Nashville for a long time. I wanted to sell brands that I believe in and be on a facility where the customer can shoot the gun."
He elaborated that, since he's a devoted clays shooter, part of his inspiration came from being a long-time customer of Krieghoff, whose K-80 12 gauge is a perennial tournament gold medalist.
Mr. Rich tapped his long-time friend and Krieghoff shooter Terry Hetrick to collaborate on the venture, which is located at the sprawling Nashville Gun Club along a leafy stretch of the Cumberland River. While Mr. Hetrick served as company President, another friend, Chris Trundle, was recruited in the capacity of North American Sales.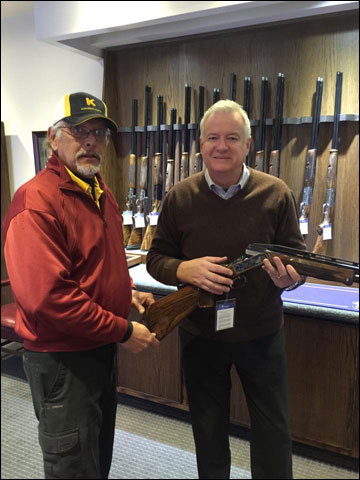 Terry Hetrick (left) with Dieter Krieghoff, President of Krieghoff International.
Of the three, Mr. Hetrick is certainly the front man. He's the club pro with a full schedule of lessons from first-timers to the highest level of professional competitive shooter. Mr. Hetrick capitalizes on his own clays tournament titles and local hero status as former eight-time Tennessee State Skeet Champion.
The business plan posits that Mr. Hetrick can convert his students and contacts into Double Guns of Nashville customers.
"The teaching is a great source for prospects," he said. "It's a never-ending source of people coming through the door."
Opening Double Guns of Nashville at the Nashville Gun Club is part of Mr. Rich's hands-on interpretation of shotgun sales. I would soon realize the payoff when he loaned me his own Krieghoff K-20 Parcours for evaluation. In fact, anyone seriously interested in purchasing this remarkable new 20 gauge can also evaluate it at the gun club – and that's integral to his winning strategy.
Case in point: as I would discover on the Nashville Gun Club sporting clays course, once you put Krieghoff's K-20 Parcours in the hands of an enthusiast, the gun will pretty much sell itself.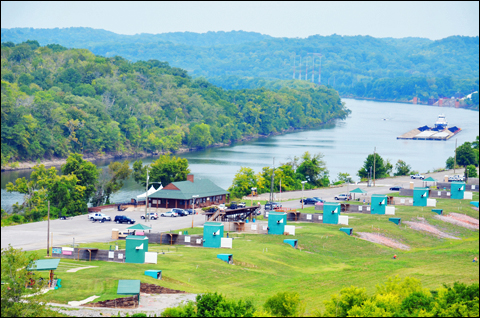 The Nashville Gun Club.
As a prospective buyer, you'd be hard pressed to find a better place to test drive one of the models sold by Double Guns of Nashville. That's because the Nashville Gun Club has 10 skeet fields, 13 trap fields, covered five stand, international bunker trap and a 20-station sporting clays course.
The economics of Nashville favor the city's new sophisticated sporting gun store. You probably know Nashville as the Music City, but other sources of revenue growth derive from banking, transportation, health care and higher education, notably Vanderbilt University. The city's building boom is evident everywhere. Construction cranes rise throughout downtown. Historic Germantown, established by European immigrants in the 1850s, has over the years offered modest affordable housing to ethnic groups. Today, though, most of the houses in Germantown are teardowns or remodels with price tags of some $650,000, purchased largely by young professionals. The local grocery has been displaced by a nouvelle cuisine restaurant. (And based on our experience, it's easy to spend $150 on a fantastic dinner for two with a nice bottle of wine in a Germantown bistro.)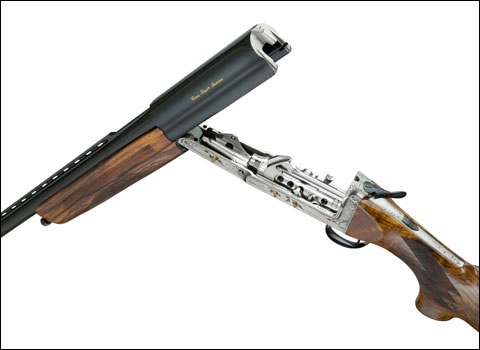 Double Guns of Nashville is one of the very few U.S. dealers for the amazing Cosmi semi-auto.
Nashville's unemployment is about 3½ percent, college attainment is 33 percent and the median household income is slightly over $54,000. In the last five years, 16 hotels have opened in Nashville to capitalize on the breathtaking growth in tourism for Music City favorites such as the Country Music Hall of Fame, the Grand Ole Opry and the so-called "Mother Church of Country Music," Ryman Auditorium. All the fiscal trends point to an increasingly affluent population that can more easily afford the lovely inventory presented by Double Guns of Nashville – including that marvelous Krieghoff K-20 Parcours.
As we discovered at the Nashville Gun Club, the K-20 Parcours adopts the same design philosophy as the earlier 12-gauge K-80 Parcours that we had evaluated and validated in a second review where we shot a K-80 Parcours fitted with K-20 Parcours barrels.
To start, the standard K-80 features a floating-barrel configuration, where each barrel is separated. That requires thick walls to handle the lack of side-rib stabilization while also preventing warping and vibration. The free-floating barrels include a hanger at the muzzles to adjust point of impact. The barrels swell at the muzzles to accommodate Krieghoff's titanium chokes.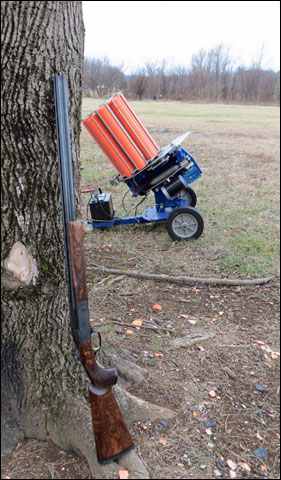 Taking a break with Barry Rich's awesome Krieghoff K-20 Parcours at the Nashville Gun Club.
The initial K-80 Parcours barrels achieved lower weight through a comprehensive redesign. First, side ribs were added, allowing Krieghoff to trim barrel dimensions. The side ribs start at the muzzles and run about half-way down the barrels to just behind the forend.
Standard K-80 barrels have a bore of 18.6mm, outside diameter of 21.3mm and wall thickness of 1.35mm. The Parcours' barrels feature the same bore and chamber length, but have an outside diameter of 20.5mm and wall thickness of .85mm. So the outside diameter of the Parcours barrels is 0.8mm thinner while the barrel wall thickness is 0.5mm smaller.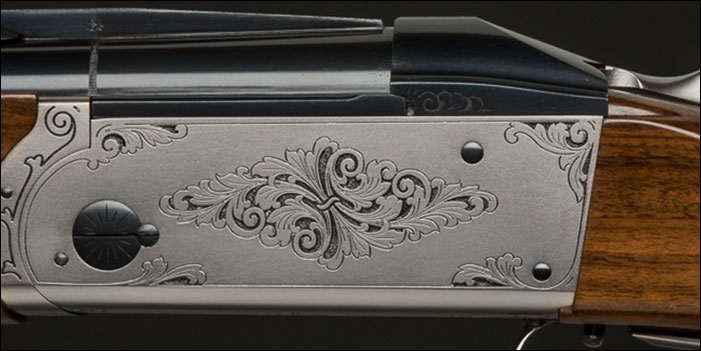 The Standard Arabesque scroll engraving pattern on the Krieghoff K-20 Parcours.
In the K-80 Parcours, Krieghoff eliminated the barrel hangers and the muzzle swell (making the Briley thin-wall chokes a factory option on the fixed constrictions of modified/improved modified). Even with the addition of side ribs, Krieghoff cut approximately 8 to 10 ounces from the K-80 Sporting barrels to yield a Parcours barrel weight of 3 pounds on the 32 inchers.
Whereas the Krieghoff K-80 Sporting weighs approximately 8¾ pounds, the K-80 Parcours is ¾ pounds lighter. We found the difference to be quite remarkable low-gunning it in sporting clays. The K-80 Parcours shouldered quicker and proved extremely nimble on the array of challenging presentations.
Now Krieghoff put those principles to work on the K-20 Parcours. In addition to the equivalent barrel redesign from the standard K-20, meaningful weight savings were realized with the slimmest stock and forend ever produced by Krieghoff. The sum total of weight reduction yielded a seven-pound Krieghoff over/under compared with some eight pounds for the standard K-20 Sporter – given that all other aspects are equal such as barrel length (30-inch and 32 inches, with fixed constrictions of modified/improved modified are the only choices, topped by a 7mm tapered rib).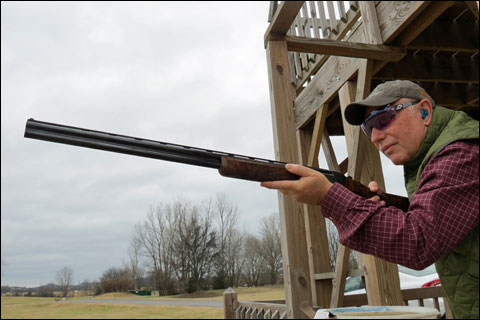 The author shooting the Krieghoff K-20 Parcours at the Nashville Gun Club.
At seven pounds, the K-20 Parcours is on the threshold of sustained field use – although some purists might stand firm on their insistence that a six-pound side-by-side is the only viable configuration for proper upland hunting. Krieghoff respectfully begs to differ – shipping the entry K-20 Parcours with a select oil-finished Turkish walnut sans adjustable comb complemented by a "slim, field style" forearm.
Likewise, the tweedy set might balk at the clays-correct single selective mechanical trigger with its exquisite 3½ pounds of pull and adjustable travel for finger length. Yes, I understand that heavier triggers are hailed for their safety drudging between the corn rows and on the moors. But anyone who shoots a 3½-pound mechanical trigger on upland game will be spoiled for life.
Until recently, Krieghoff's only upland offering was the handsome, round-body, side-by-side Essencia. The K-20 Parcours opens the door wider for wingshooters. The K-20 Parcours starts at $11,695 against the Essencia's base $29,895.
The beginning paragraph of the Krieghoff's K-20 Parcours web-site page reads "High driven pheasants in England, a sky filled with doves in Argentina, fast red legged partridges in Spain call for a reliable, fast moving shotgun. The new K-20 Parcours, your perfect companion in the field." There's nothing ambiguous about Krieghoff's intent for its K-20 Parcours.
Prior to its arrival in the U.S., Krieghoff showcased the K-20 Parcours at the 2016 IWA Outdoor Classics Expo in Nuremberg, Germany. The shotgun subsequently began trickling into the showrooms of American authorized dealers during the summer of 2016. Sales spiked immediately and Krieghoff is backfilling orders as quickly as possible. The market reaction is easy to understand once you get your hands on the shotgun.
Balanced and slender, grabbing a K-20 Parcours from the gun rack instantly hints at the shooting experience to come with Mr. Rich's shotgun.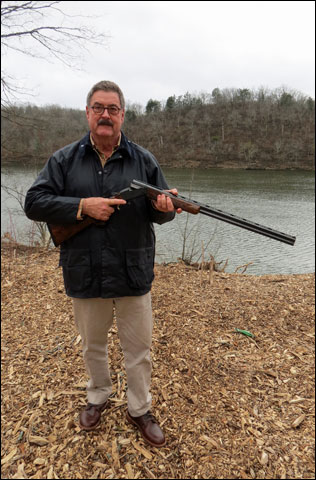 Chris Trundle with the Krieghoff K-20 Parcours we shot at the Nashville Gun Club.
Like other Krieghoffs, the entry K-20 Parcours arrives with the company's trademark nickel-plated steel action embellished with the Standard Arabesque scroll engraving pattern. Mr. Rich's K-20 Parcours was instead ordered with a plain, blued field-grade receiver and bespoke stock bearing a prominent right-handed palm swell. The stark receiver contrasted superbly with the wood's high-grade figuring.
Mr. Trundle kindly escorted us around the sporting clays course.
The K-20 Parcours demonstrated a phenomenon that I call "zero bias." The idea goes beyond flawless between-the-hands balance and even intuitive handling to a fluid composure with zero pushback or influence on the outcome of your shot. So little effort or correction is required by K-20 Parcours that it seems to have some sort of integrated algorithm for finding the targets. When we discuss self-driving cars, the K-20 Parcours opens the possibility to a shotgun if ever that were thinkable. "Zero bias" is more frequently attained on six-figure best guns, but for under $12,000 that feeling is nearly impossible to find.
So next time in you're in the Nashville area, swing by Double Guns of Nashville and ask to shoot the K-20 Parcours. As Mr. Rich would prefer, see for yourself.
Need more shotguns? Click here to visit ShotgunLife.com.
Irwin Greenstein is the publisher of Shotgun Life. You can reach him at contact@shotgunlife.com.