In the weeks after Donald Trump won the election, CNN chief Jeff Zucker watched as one of his employees compared the new president to Adolf Hitler.
At a White House press conference Thursday, Trump declared that he was changing his moniker for the network from "fake news" to "very fake news."
There's been a ton of well-publicized drama between the two camps. The White House has threatened to throw Jim Acosta out of the briefing room. Jake Tapper has bashed Trump adviser Kellyanne Conway for lying on air. And his Sunday show recently declined an offer by the White House to have her come on.
You may think Trump is too harsh on CNN.
But take a look at how the network treated Trump back in November.
Less than a week after Trump won the election, a cadre of CNN employees made their way to the Ronald Reagan Building in downtown Washington to attend the 2016 International Center for Journalists awards dinner.
CNN anchor Wolf Blitzer was the emcee of the November 14, 2016 event. Zucker, CNN's Worldwide president, was also there — sitting near the front of the ballroom — where he had the pleasure of witnessing two of his employees receive awards.
First up was Clarissa Ward, a war correspondent for the network, who gave a gracious speech about how journalists "have to listen to voices we don't want to hear."
Carmen Aristegui, on the other hand — whose popular show airs on CNN Espanol — compared Trump to Adolf Hitler.
The Mirror requested a comment from Zucker as well as a CNN publicist. Neither answered our questions.
In a speech that, at times, stunned the audience into silence, the Mexican journalist began by saying "[t]he triumph of Donald Trump has left us shaken. We are all still in a state of shock."
WATCH:
She said, "Trump has unleashed the worst hatred and has given force to racism and xenophobia. He has opened the door to the worst demons. That is why the world is so frightened, and why we must use the tools of democracy and human rights to face the time that is approaching. Sadly, the Mexican government does not have the strength to stand up to this enormous challenge from someone who has called us rapists, swindlers, and criminals."
Trump launched his presidential campaign in the summer of 2015 by declaring that Mexico was not sending their best. "When Mexico sends its people, they're not sending their best," he said in a speech at Trump Tower. "They're sending people that have lots of problems, and they're bringing those problems to us. They're bringing drugs. They're bringing crime. They're rapists."
Twice during her speech, Aristegui dramatically raised two fingers to her upper lip to emphasize Trump's supposed similarities to Hitler.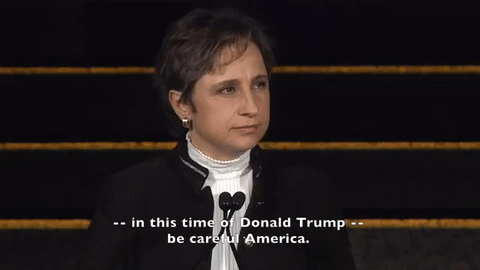 She concluded by thanking her "friends and colleagues at CNN," among others.
Meanwhile, as the speeches wore on, attendees could slip out to place their final bids on a series of signed journalism photos that were being silently auctioned off in the hallway.
Among the dozen or so pictures were three impressive images of President Obama. Only one of the photos was of Trump, standing in front of his plane during a campaign stop.
Zucker placed $2,000 bids on only two photos — both of Obama.
The CNN chief didn't bid on the Trump photo.