Irwin Greenstein, Shotgun Life
Here's the shot of the day…
Around 90 minutes into our afternoon quail hunt at Backwoods Quail Club in Georgetown, South Carolina we had circled back to a downed pine tree still abundant with branches and green needles. Our guide Ryan thought he saw a quail or two there. The flat-shooting Krieghoff K-20 Parcours fitted with the new 28-gauge Parcours barrels had been fueling my confidence by hammering coveys since stepping down from his truck. Ryan's dogs, Rosco and Tyson, hoovered up the scents but detected nothing as we inched toward our quarry.
Suddenly, a single quail broke away from the fallen tree, but the branches obstructed my sight picture. Oh, well, there'll be others, and I mentally checked out for a moment, taking pleasure in our surroundings, when a second quail burst from the trunk, racing away fast and low – putting the fallen tree between us. Through a jagged window in the branches I could see the bird escaping across the meadow. I deliberated, take the shot or not? By time I went for it, the quail must have been some 40 yards gone by Ryan's reckoning and what felt like slow motion I shouldered the shotgun, taking bead through that tangle, patiently established the shot and pulled the trigger: one Mississippi, two Mississippi when the quail dropped. Ryan freaked out in exuberance. Yet my growing relationship with the shotgun already told me with near certainty, leveling those barrels right under the receding tail feathers, that the Krieghoff would effectively deliver a precision 28-gauge payload.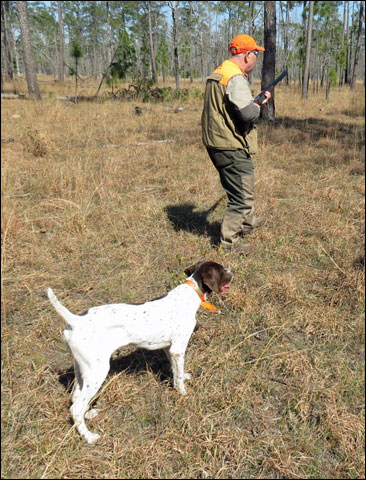 Ready for the quail flush with the Krieghoff K-20 Parcours with 28-gauge Parcours barrels.
The Krieghoff K-20 Parcours with 28-gauge Parcours barrels is the premium German gunmaker's latest evolution in lightened-barrel technology that takes the over/under from its clays-course home turf into the field.
The journey began about six years ago when the Parcours project entered into development at Krieghoff's Ulm factory. The first beneficiary was Krieghoff's flagship 12-gauge K-80 Sporter that had been dominating international clays competitions. Nonetheless, requests had been trickling in from professional and recreational customers for an adaptation lighter than the K-80 Sporter's 8¾ pounds. In response, Krieghoff focused on weight reduction without compromising the company's hallmark reliability and handling consistency.
Krieghoff's goal was largely achieved through re-engineered barrels. For the original 12-gauge K-80 Parcours, Krieghoff standardized on 32-inch barrels. Instead of using the traditional Krieghoff split tubes with no side ribs and a muzzle hanger (for strength and adjustability), the Parcours barrels employed side ribs running back approximately 19" from the muzzles for added rigidity. The side-rib development let Krieghoff manufacture slightly thinner barrels. Next, Krieghoff eliminated the titanium screw-in chokes, replacing them with fixed modified/improved modified constrictions. Aggregate barrel weight loss dropped around 10 ounces.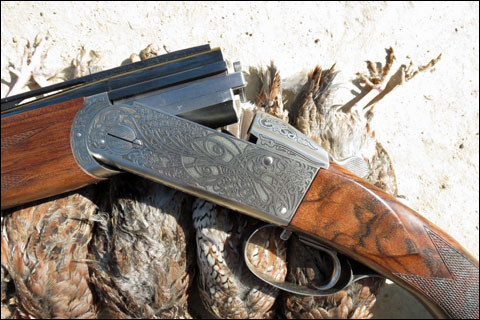 Some of the quail taken with Krieghoff's K-20 Parcours sporting 28-gauge Parcours barrels at the Backwoods Quail Club.
Turning to the walnut, weight savings came from a slimmer stock and forend. Ultimately, the Parcours team successfully reduced the original K-80 Sporter from about 8¾ pounds to a to an approximate 8-pound middleweight contender called the K-80 Parcours. The livelier dynamics would hearten enthusiasts in pursuit of a faster swing and mount. Krieghoff introduced the K-80 Parcours in late February 2012 at the British Shooting Show, and the model has grown immensely popular at nearly $12,000.
Come February 2016, Krieghoff applied its Parcours know-how to the 20-gauge K-20. Compared with its predecessor K-20 Sporter at some 8 pounds, the K-20 Parcours arrived at about 7 pounds. Notably, the K-20 Parcours 32-inch barrels tickled the scales in the neighborhood of 2.68 pounds compared with almost 3.42 pounds for the K-20 Sporter 32-inch barrels – a perceptible loss of approximately 22 percent.
The lithe K-20 Parcours thrust Krieghoff into the upland market with an $11,695 over/under more accessible than the $30,000 entry price of its classical Essencia side-by-side gem.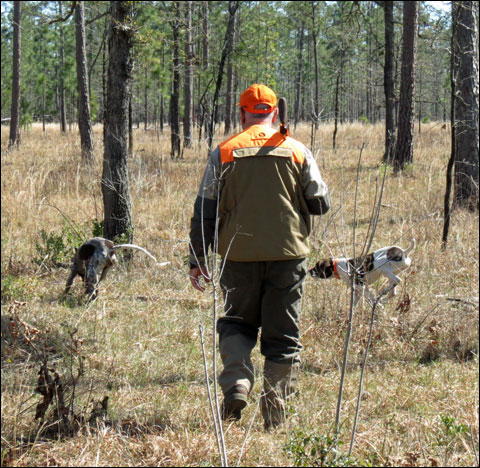 The author at Backwoods Quail Club. Krieghoff's K-20 Parcours with 28-gauge Parcours barrels proved easy to carry during the afternoon quail hunt.
Now we shoot the next logical progression in Krieghoff's Parcours agenda: a K-20 Parcours featuring the newest 28-gauge Parcours barrels. For the sake of consistency, we compared the weight of all the Parcours at 32 inches, although the shotgun I used at Backwoods Quail Club sported 30-inch barrels with the standard modified/improved modified constrictions.
Krieghoff's Parcours formula reduced 28-gauge, 32-inch barrel weight from around 3.38 pounds on the K-20 Sporter to about 2.82 pounds – a 16½ percent decrease. The Parcours 28-gauge barrels brought to life a K-20 Parcours of approximately 6 pounds, 10 ounces ready, willing and able for Southern quail (although with 30-inch barrels the gun I shot weighed closer to 6½ pounds).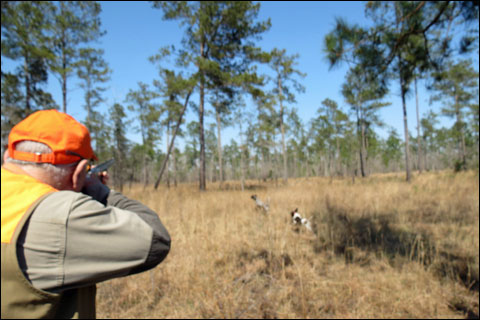 The author taking a successful long quail shot at Backwoods Quail Club using the Krieghoff K-20 Parcours with 28-gauge Parcours barrels.
Our day at Backwoods Quail Club started in the morning with 5-Stand, followed by sporting clays on both the novice and advanced, tournament-style courses (there's also skeet, trap and FITASC). The target presentations have been honed from years of hosting major events sanctioned by the National Sporting Clays Association and the participation of owner Rick Hemingway in the Professional Sporting Clays Association tour. The venue has also been home to the annual Fall Southern Side by Side Competition & Exhibition. Throwing more than one-million targets per year, Backwoods Quail Club is a candyland of shotgun sports with overnight accommodations and a swimming pool.
The K-20 with 28-gauge Parcours barrels proved impressively nimble and balanced – taking the fundamental K-20 attributes into a higher, more rarified realm.
After lunch, a quick ride with guide Ryan dropped us in the quail fields where we would walk for two hours, proving that the Krieghoff was easy to carry. Some wingshooters would say that a shotgun with 30-inch barrels choked modified/improved modified is inappropriate for quail hunting, but my own experience can put that argument to rest.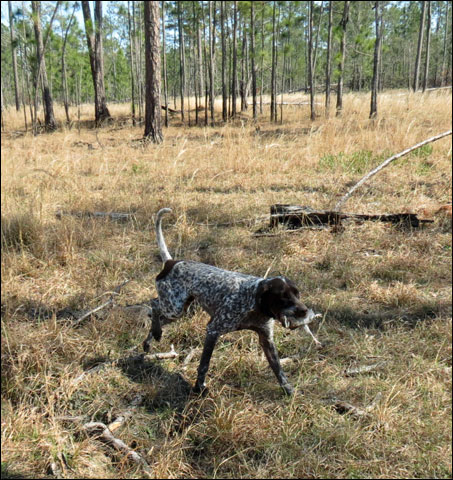 Delivering the quarry downed with the Krieghoff K-20 Parcours with 28-gauge Parcours barrels.
The K-20 Parcours with the 28-gauge Parcours barrels shot flat and true. Its quick handling, marvelous 3¾-pound Krieghoff trigger and slim, field-style forend synergized for quick and intuitive responses to close flushing birds. And when a first shot was inevitably missed the barrel configuration excelled at longer distances.
Of course a K-20 Parcours can be fitted with a second set of 28-gauge Parcours barrels for an additional $4,695 to the shotgun's suggested retail price of $11,695. That means for some $16,400 you're getting one of the best-shooting clays and field combinations at a relative bargain. Krieghoff's K-20 Parcours with the 28-gauge Parcours barrels is a world-class upland shotgun that shatters any preconceived notions of an over/under for the field.
Irwin Greenstein is the Publisher of Shotgun Life. You can reach him at contact@shotgunlife.com. Click here to visit ShotgunLife.com. Click here to follow SL on Facebook.