By Elwood Shelton, Gun Digest
Semi-automatic pistols have ruled the roost when it comes to self-defense guns in recent years, but concealed carry revolvers still hold their own when push comes to shove. The time-tested design is offered in some excellent self-defense calibers, is straightforward in operation and is as dependable as the next day's dawn. And there are some excellent and well-thought-out options in the revolver market tailor-made to hang ever ready on your gun belt and deliver when called upon. So without further ado, here are 5 Standout Concealed Carry Revolvers that will definitely keep you covered.
What will keep you covered when it comes to concealed carry revolvers?
Ruger SP101 .357 Magnum
Charter Arms Bulldog DAO
Smith & Wesson Model 642
Ruger LCR in .38 Special +P
Kimber K6s
Ruger SP101 Spurless .357 Magnum

Ruger has several rock-solid options that make dandy concealed carry revolvers. But few match the elegant nasty of this SP101 model. The SP101 gives you five rounds of .357 Magnum (or .38 Special) at your disposal in a manageable package.
The handgun tips the scales at 25 ounces, tending toward the heavier end of carry pieces, but not bad for a single-piece, stainless-steel frame revolver. But that weight pays off when the gun is fired, taming the snappy magnum's recoil, doubly so with the revolver's meaty rubberized grips.
Ruger has configured this SP101 for going undercover by including a spurless hammer (the model is also available with a spur) and by rounding every conceivable snag point — including the front sight. Furthermore, its 2.25-inch barrel and 7.20-inch overall length makes the double-action a breeze to keep under wraps. Of course, common to any gun that focuses on concealability, there are tradeoffs. In this case, the barrel length will not allow the .357 Magnum to come close to its full ballistic potential. With that said, it will still send a load of fury down range. MSRP: $719
Charter Arms Bulldog DAO

A surefire way of stopping a threat is to poke big holes into it. Charter Arms gives you the ability to do exactly this with its legendary .44 Special Bulldog.
The 2.5-inch barreled revolver has been around for a spell, first introduced in the early 1970s, and has only gotten better with time. This includes some much needed tweaks to the original design, such as making the front sight integral to the barrel and expanding the selection of models to keep up with prevailing concealed-carry trends.
The DAO (double-action only) is one such example. A clipped spur isn't absolutely essential for concealed carry revolvers, but it does up the odds of a clean draw each time the gun is unholstered. Not to mention, it makes the revolver more comfortable to carry.
The five-round revolver is very controllable, especially for weighing 21 ounces and pitching bullets up to 300 grains in weight. Much of this is due to the low pressure at which the .44 Special operates, and it is further helped down this road with generous grips, complete with finger indentations.
Being chambered for .44 Special, however, does pose a bit of a challenge. Ammo is not as abundant as it is for the .38 Special or .357 Magnum. But for those willing to shop around, there are solid and hard-hitting options and plenty peace of mind in holstering a dog that definitely has bite. MSRP: $426
Smith & Wesson Model 642

For many, this Smith & Wesson J-Frame is what comes to mind when they think about concealed carry revolvers. The double-action only .38 Special (+P rated) is one of the easiest revolvers to carry, given it is among the lightest options available today.
The Model 642 weighs in at less than a pound unloaded — a scant 14.4 ounces — thanks largely to its aluminum-alloy frame. And with a shrouded hammer, well, there's no worry about the revolver digging into your side when driving or snagging on your shirt when you need it most.
Granted, the 1.8-inch barreled snubby takes some practice to become fully proficient with it (what gun doesn't?). But the .38 Special is a notoriously forgiving round to shoot — one might even say pleasant. Chuck five rounds of +P ammo in its stainless-steel cylinder when it's time to head out the door, and you'll know you're covered for anything short of World War III. MSRP: $469
Ruger LCR in .38 Special +P

Outside of the cylinder, revolutionary hasn't been applied much to the revolver since the 1830s. But there's a whole bunch of it in the Ruger LCR (Lightweight Compact Revolver).
The diminutive five-round handgun is absolutely cutting edge when it comes to material use. Not only has Ruger turned to aircraft-grade aluminum for the gun's frame, but also polymers for its fire control housing. Combined with a highly fluted stainless-steel cylinder, the LCR is among the lightest guns available today — a whopping 13.5 ounces. On top of that, Ruger's friction reducing cam system makes the LCR among the easiest double actions to shoot well.
Per Ruger's MO, the revolver is highly modifiable, boasting an easily replaceable pinned ramp front sight and grips. But outfitted at the factory with a Hogue Tamer Monogrip, there might not be much reason to go shopping in the latter department. The revolver is available in five calibers, but for carry, the .38 Special +P seems like it would be a strong choice, making the 1.87-inch barreled gun much more manageable, while still packing a punch. MSRP: $579
Kimber K6s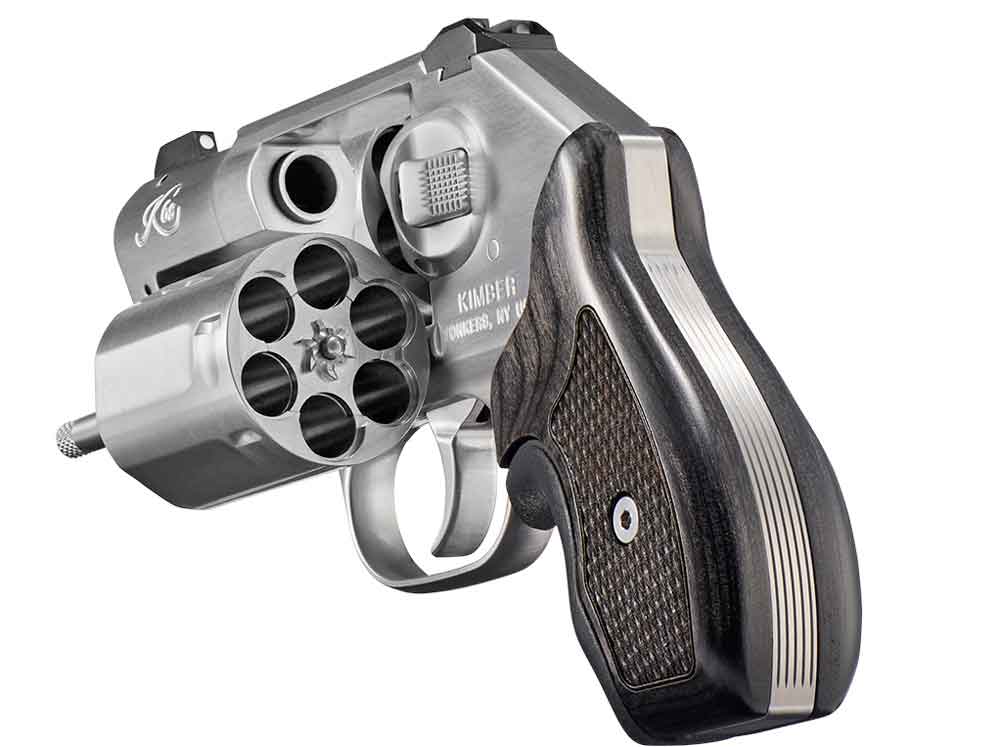 Kimber is generally known for its stunning and highly functional 1911 pistols. But recently, the company has begun to make a name for itself as a revolver-smith. This has been due to the well-conceived and excellently crafted K6s, a gun that seems to boast every must-have when considering concealed carry revolvers.
Chief among them is the K6s' wickedly light and slim design. At 23 ounces and outfitted with a 1.39-inch diameter cylinder, it is the lightest and most compact of all six-round .357 Magnums available today. But Kimber didn't stop there in tailoring the K6s for carry, shrouding the hammer and smoothing every line so it melts seamlessly onto the person, while remaining quick on the draw.
Obviously, the K6s comes with the usual challenges inherent to a 2-inch barreled .357. But the company has done everything to put the shooter in the driver's seat, not recoil. This includes excellent grip ergonomics that gives shooters superior control over the gun. And to top it all off, a match-grade trigger comes standard. MSRP: $899
Thanks to Gun Digest for this post. Click here to visit GunDigest.com.
Defensive Revolver Fundamentals is the progressive, practical training guide to the revolver, and is an indispensable reference for anyone who wants to use a six-shooter for concealed carry or home defense. Click here to get your copy.