By Irwin Greenstein, Shotgun Life
"Born in Germany, Lives in Texas" could be the calling the card of the new "Blaser Discovery Program" that combines a holiday in Blaser-USA's San Antonio hometown with a build-your-own shotgun.
Directed at Blaser F3 customers, Blaser Discovery Program also applies to the economical F16. But it's the flagship F3 that can get you a ticket to trendy San Antonio for posh lodging, gourmet dining and a lesson with Blaser Pro clays champs such as Cory Kruse, Mike Wilgus or Bill McGuire at a nearby top-notch shooting venue.
"We want to connect people with our brand by reaching out beyond our traditional clay-shooting enthusiasts," said Christian Socher, CEO of Blaser-USA.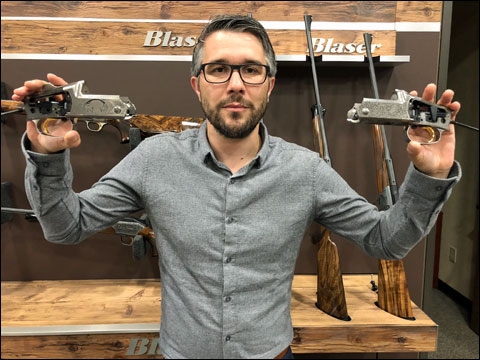 Blaser-USA CEO Christian Socher holds a pair of hand-engraved receivers for the Blaser F3 shotgun.
The Blaser Discovery Program in a way mirrors the enthusiasm for Texas by Mr. Socher. The young German executive was transferred from Blaser Jagdwaffen GmbH to San Antonio in 2012, first as Director of Operations andsubsequently as CEO. Today Mr. Socher lionizes the history, culture and gentrification of his adopted hometown. As he intended, the Blaser Discovery Program bundles German precision shotguns with San Antonio's flourishing allure.
The Texas pride of Blaser San Antonio is already expressed through recent Blaser F3 projects. San Antonio native and Blaser shotgun product manager Mo Parsons designed a stunning Alamo-themed F3 in addition to a Turkey Grand Slam custom currently at the engraving bench in Blaser's German Custom Shop. Other Blaser F3s depict the Pony Express, American Bald Eagle, rattlesnakes and alligators. The Republic of Texas is spreading its credo on Blaser F3 actions.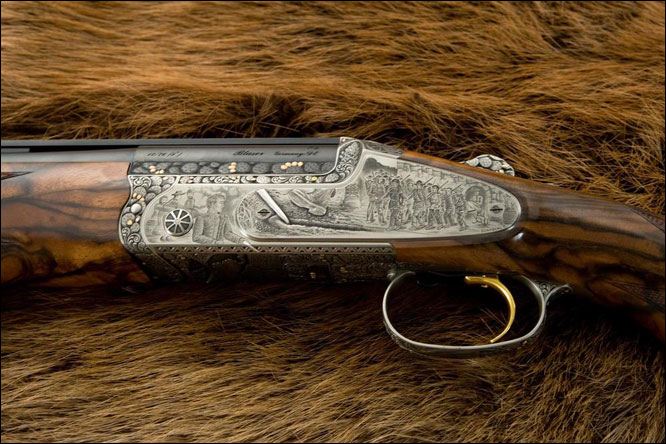 The Blaser F3 Alamo shotgun designed by Mo Parsons.
I volunteered to become a guinea pig of sorts for Mr. Socher's Blaser Discovery Program under the stipulation that I pay my own way. The Blaser Discovery Program combines great food, drink, lodging and shooting around the Blaser F3 snap-on interchangeability of barrels, receivers, stocks and forends.
The Blaser Discovery Program may sound similar to a London stayover when ordering a Purdey or Holland & Holland, although in the case of Blaser the comparison of procuring a bespoke gun is somewhat of an overstatement. Blaser lets you customize an off-the-rack shotgun you can leave with that day.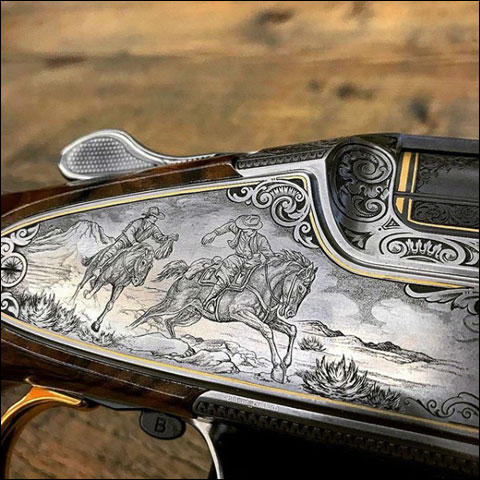 The Pony Express Blaser F3 shotgun.
"The Blaser Discovery Program is filling a void of bespoke shotguns with shotguns that are close to bespoke but off the rack." Mr. Socher explained. "But we do want to give people a bespoke shotgun purchasing experience. We can provide concierge service for visits, restaurants and entertainment. We can build the trip and a shotgun for you at the same time."
The core competency of the Blaser Discovery Program is the mix-and-match modularity of Blaser F3 components. Visit Blaser-USA and you'll discover the mathematically dazzling possibilities in aesthetics, functionality and price for the F3 made possible by the interchangeability from space-age manufacturing tolerances.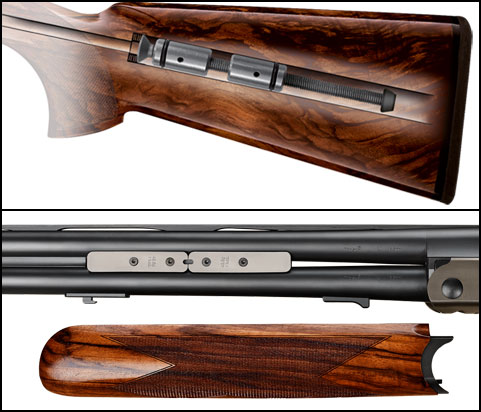 The Blaser F3 weight-balancing system for the barrels and stock.
Think about it: seven model designations, five individual barrels with specialized ribs in at least two lengths, three forend styles, 14 chokes, five stock configurations in Turkish walnut grades ranging from five to 11, a balancing system with stock and barrel weights, interchangeable beads, 10 receiver engraving patterns including four sideplates plus the standard plain matte black (custom engravings can take up to one year). And then of course there are multi-barrel sets because any barrel will automatically fit any receiver (all barrels, regardless of gauge, weigh 3¼ pounds for a consistent shooting experience).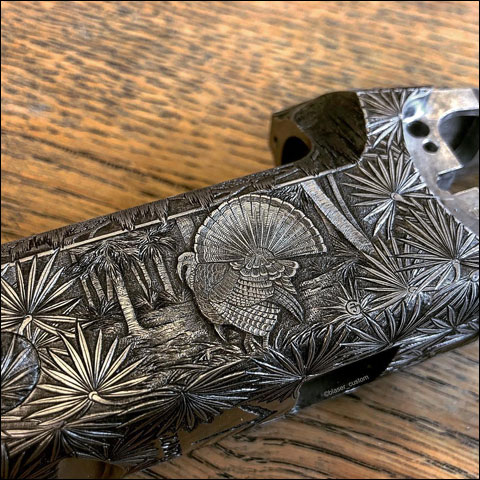 The Turkey Grand Slam Blaser F3 shotgun designed by Mo Parsons.
It would be easy to assemble a Blaser F3 that rivals the aesthetics and capabilities of the vaunted Beretta SO family.
If you're not familiar with the Blaser F3 it sports a svelte profile thanks to unique horizontal plunger firing pins and compact Ejector Ball System that cocks the springs upon closing. The F3's Formula-1 handling is heightened by one of the best trigger systems around (it's mechanical with an intuitive 3½ pound pull).
Although Blaser's F3 may lack the Olympian legacy of predecessors Krieghoff and Perazzi, a steep sales trajectory has been attributed to regular appearances on the winner's podiums since its European introduction in 2003 and U.S. debut the following year.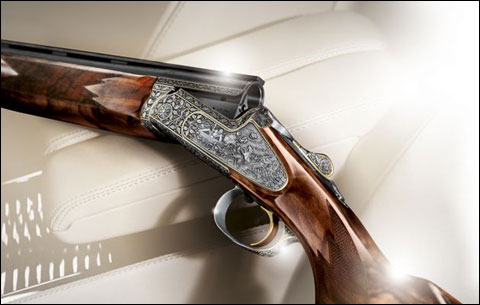 A customized high-grade Blaser F3 shotgun.
When the F3 arrived in the U.S. the biggest rap against it harked back to that 1909 Henry Ford quip "Any customer can have a car painted any color that he wants so long as it is black." Initially the Blaser F3 only shipped with a matte black receiver. In recent years, though, Blaser has seen the light. You can start with a $25,000 hand-engraved receiver, move up to Grade 11 walnut, add a couple of barrels and find yourself with a $40,000 one-of-a-kind F3. The juicier profit margins from Blaser's push into premium customs is largely the impetus of the new Blaser Discovery Program.
My base of operations in San Antonio was the Hotel Emma – Mr. Socher's frontrunner for the Blaser Discovery Program. The hotel building and clock tower, dating from 1894, were originally the Pearl Brewery brew house. Located at the north end of San Antonio's famous River Walk, it's the anchor of the fashionable 16-block culinary, residential and commercial district simply called The Pearl.
Enter the lobby and you'll encounter a heady swirl of time travel. The New York interior designers, with roots in Hollywood set design, architecturally repurposed period industrial artifacts like flywheels, generators, pipes, valves and storage tanks and integrated them with exposed brick, distressed wood, tile, old-world plaster and contemporary renditions of 19thcentury Southwestern furniture. The overall patina in the rooms and public areas is evocative of Sean Connery's movie "The League of Extraordinary Gentlemen." People wander around the lobby taking photos.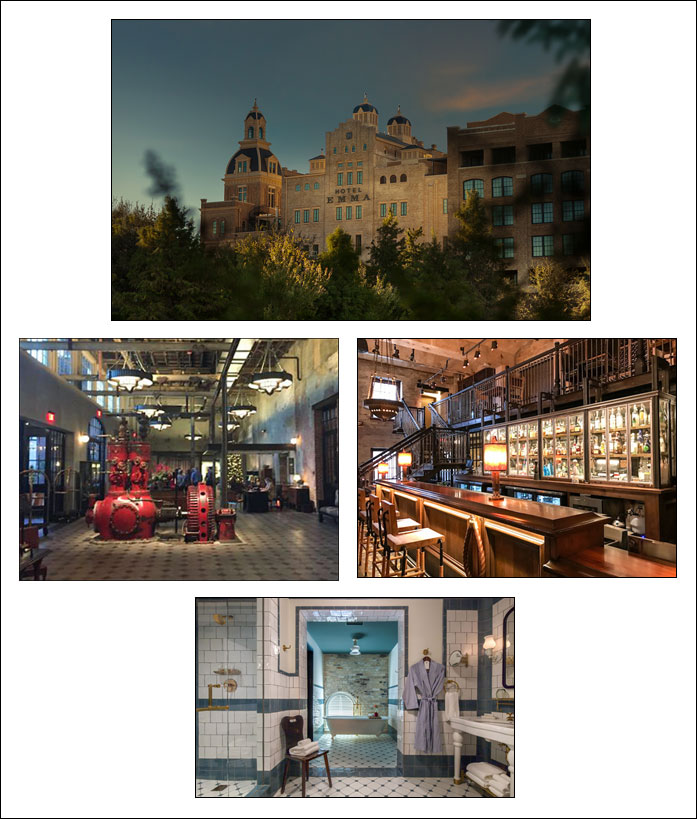 The Hotel Emma.
Modern food, a brew pub and craft cocktails are found through catacomb-like passages. On the first night, at the bar of Supper where I enjoyed a light dinner, I struck up conversations with a family of gourmands from Atlanta on one side and a local music producer on the other. Yes, the Hotel Emma is hip.
The next morning I had breakfast with Mr. Socher at one of his favorite neighborhood Mexican restaurants, Mary Lou's Café. He recommended the breakfast tacos so I ordered a couple of egg and chorizo on flour tortillas with black coffee. The meal was delicious.
We discussed the scenario of the day. I would act as a customer in the Blaser Discovery Program. I'd receive the full treatment, starting on the San Antonio insider's track at Mary Lou's Café. Mr. Socher urged me to be brutally candid about the program, with an eye on formal introduction in the near future.
Afterwards we drove to the Blaser-USA headquarters – an unmarked, generic commercial building with black windows five minutes from San Antonio International Airport. The location is convenient for customers stopping over on private jets usually on their way to a vacation or hunting destination, Mr. Socher told me.
The warehouse is partitioned into executive offices, gunsmithing shop, shipping department, retail store and a substantial stockroom for Blaser shotguns, and rifles from Blaser, Mauser, Sauer and Rigby plus hunting optics, accessories and clothes – all imported and distributed by Blaser-USA.
Touring the warehouse with Mr. Socher, seeing the wealth of F3 components itemized on the steel shelves, ideas for my perfect shotgun began to take shape. We ended in the rustic-styled retail store where F3s adorned the walls. A glass-topped case displayed pricey hand-engraved F3 actions and high-grade forends and stocks.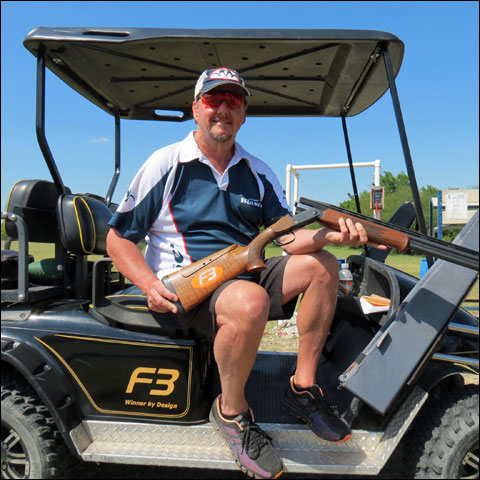 Mo Parsons, Blaser-USA's Shotgun Manager, at the National Shooting Complex.
Mr. Parsons joined us. He advised that I start with a Blaser F3 that had the best stock fit. After several tries, the Blaser F3 Vantage seemed to combine solid fit with clear target acquisition from its mid-height rib of lightweight aluminum alloy tapered 10.5mm at the breech to 8.5mm at the muzzle and 7.5mm above the barrel. The companion Supersport stock, with an adjustable comb, had a drop of 37/48mm, the cast at 3/4/9mm, pitch of 84 degrees and 14½-inch length of pull. The "heads-up" shooting position of the F3 Vantage matched the natural stance of the Churchill-style clays stance I had recently adopted.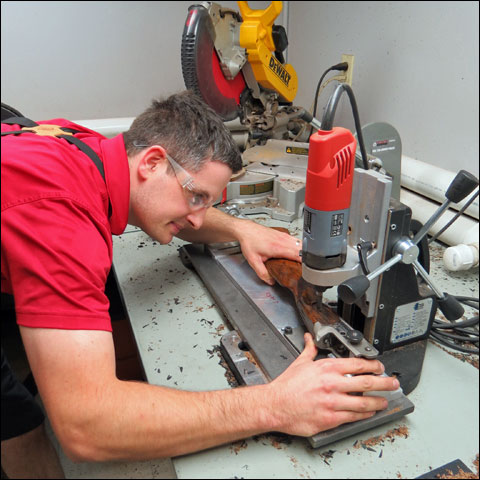 Andrej Gorjup, head gunsmith and service manager for Blaser-USA, inlets an F3 stock for sideplates.
The premise is that we shoot a demo F3 to determine the best configuration. Since all similarly equipped F3s shoot the same, we would return to Blaser afterwards and upgrade it with any option I wanted. So if we shoot an F3 Vantage with Grade 5 Turkish walnut and I wanted to add Grade 11, the new stock shouldn't change the shooting dynamics of the gun. Likewise with the receiver engraving. Even if I tried the basic black F3 Standard I could pay for a hand-engraved receiver or custom sideplates confident that the gun would shoot identically to the demo.
In the interest of experimentation, I had asked Mr. Parsons to bring the standard flat-rib F3 and the F3 Vantage to the National Shooting Complex on the grounds of the National Sporting Clays Association – home to leading tournament shoots. I requested 30-inch and 32-inch barrels. That meant I could try the flat-ribbed F3 with the Supersport stock (adjustable comb), the standard stock with the Vantage barrels, plus the different barrels lengths and choke constrictions. If I wanted to spot change different gauge barrels that would be possible as well.
As we packed up the F3s, Mr. Parsons asked "Do you like barbeque?"
"Heck yeah."
"Let's get lunch before we shoot."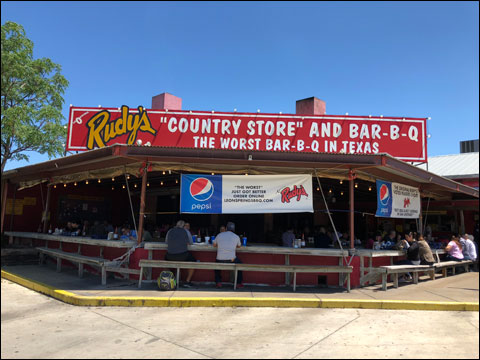 Rudy's Country Store and B-B-Q.
We climbed into his F-250 diesel and drove to a Rudy's Country Store and B-B-Q, which bills itself as serving "The Worst B-B-Q in Texas." The Leon Springs Rudy's with long-bench seating inside and out stood at a busy San Antonio intersection. Get in line and choose from brisket, turkey breast, sausage, chicken and pork or baby back ribs. Clearly, the regulars knew what they wanted. You order by weight and the food is served on wax paper. I went for the baby backs, sweet tea and Rudy's famous sweet corn (don't miss it) at the recommendation of Mr. Parsons who himself is a barbeque and jambalaya aficionado known for his generous cookouts at clays tournaments.
At the National Shooting Center, we parked behind Vendor's Row where Blaser has a storefront for its sales and service. We placed the shotguns and ammo onto the Blaser golf cart and set out for the sporting clays courses to evaluate which of the Blaser configurations would be best for me.
It's important to know that Mr. Parsons is a highly qualified clays professional. He's been at it for nearly 30 years and reached NSCA Level III instructor status. He began working for the NSCA in 2001 and became their Head Referee (a position he still holds while working for Blaser). I'd find out that he knew the course here like the proverbial back of his hand. He is also a proficient target setter. He joined Blaser in January 2013 and his duties include liaison to their sponsored clays shooters.
We hopped around different stations that would give Mr. Parsons the best feedback on the gun fit and personal performance. At each stop he gave me effective lessons as we interchanged barrels, stocks and chokes. I ultimately decided on the F3 Vantage with 32-inch barrels.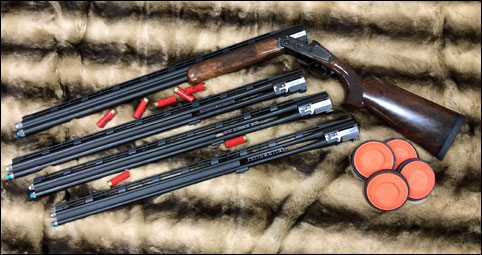 The Blaser F3 Vantage Tuxedo gun four-barrel set chosen by the author.
We wrapped up at the National Shooting Center right around dinner time. He suggested we drive to Perry's Steak House, which is a 15-restaurant chain. Located in the upscale The Shops at La Cantera mall, a couple of Ferrari F458s remained parked out front, as valet fan boys are wont to do. Inside, the white tablecloth restaurant exuded classic American grill with its opulent materials, Art Deco inspired lighting and Rat Pack chic. The young hostess escorted us to a luxurious booth.
I started with the Caesar Salad, which was the best I'd ever eaten. For an entrée, I ordered the six-ounce filet topped with truffle merlot demi glace and an enormous side of al dente mac-n-cheese. The meal was accompanied by a couple of glasses of 2013 Jordan Cabernet. Already on a culinary high, I figured dessert would be terrific. If you're a chocolate lover order the Chocolate Crunch – crunchy milk chocolate covered with a dark chocolate ganache served with homemade whipped cream, toffee and peanut brittle. Yes, it was that good.
Fortunately, Mr. Parsons didn't drink and was able to drive us back to the Blaser-USA headquarters. Now it was time to select the F3 Vantage I would purchase. Although I appreciate extravagant engraving, my personal preference skews toward simple elegance. I selected the Tuxedo side plates (gloss black with a hand-engraved silver border), Grade 7 Turkish walnut and a full complement of four 32-inch barrels (12/20/28/.410). Total price approached $33,000. By now, close to 8:00 PM, I would have to wait until the next day to pick up the F3 I had built for myself.
Just another good reason to spend an extra night at the Hotel Emma.
Irwin Greenstein the publisher of Shotgun Life. You can reach him at contact@shotgunlife.com.