The Raiders have reportedly reached an agreement to stay in Oakland for the 2019 season.
According to Ian Rapoport, the Raiders and Coliseum Authority reached a deal for the team to stick around for another season before heading off to Las Vegas. They will also be able to stay for the 2020 season if the stadium in Vegas isn't ready to go.
The #Raiders and the Coliseum Authority have reached an agreement for the team to remain in Oakland for the 2019 season at least and the sides are ironing out final nuances and details of the deal, sources say. It could be wrapped up and presented to the board as early as Friday.

— Ian Rapoport (@RapSheet) February 25, 2019
The #Raiders agreement with the Coliseum Authority is for 2019, but it also includes a team option for 2020 if their Vegas stadium isn't ready, sources say. The steps should be: Board meeting Friday or Tuesday. Then city council. Then final approval by the March league meetings.

— Ian Rapoport (@RapSheet) February 25, 2019
Well, there you have it, folks. There had been a lot of talk of where the Raiders would play the upcoming season. I think most of us assumed they'd be in Oakland still, but nothing was set in stone.
Now, it looks like the local fans of the squad can breathe easy because they're not going anywhere for at least one more season. They could even possibly be there for two more years.
View this post on Instagram
Of course, it's only a matter of time before Gruden and the Raiders officially head for Nevada. Anything in the short term is just that. It's a short-term solution. (RELATED: Jon Gruden Says The Raiders Could Trade Their First Round Picks)
In the end, there's nothing on this planet that's going to keep Gruden's squad out of Vegas. I know that sucks to hear if you're a diehard Raiders fan, but it's the truth.
They're Vegas bound eventually no matter what happens.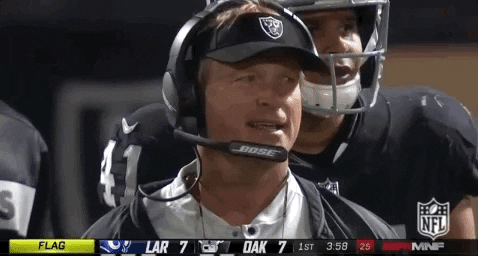 In the meantime, Raiders fans can enjoy at least eight more home games. I know it's not much of a consolation prize, but it's better than nothing.