Jerry Jones apparently wants another Super Bowl ring over getting more money.
The Dallas Cowboys owner already has three rings, but that isn't enough. How important would a fourth one be? Apparently, more than money.
"I admire people who have got enough to quit being hungry or quit having something they want to have, and they've got it, and they have peace. I've never been there. My point is, the hunger is for what we're talking about right now — winning a Super Bowl. Not to get another billion dollars," Jones told the Star-Telegram in an article published Saturday. (RELATED: Cowboys Star Randy Gregory Suspended Indefinitely For Substance Abuse Policy Violation)
View this post on Instagram
This is the kind of passion that I'm in love with. Jones already has three rings, and he'd rather get another one than another billion dollars.
How many owners with multiple rings have that kind of mindset? I'm not sure very many. Once you get one, you'd think the money would become more important.
View this post on Instagram
If I had a Super Bowl ring already, and I had the choice between that or another billion, I would take the cash so fast that your head would spin.
It sounds like Jones is driven as hell to get another at all costs. At the very least, he sounds like he's driven to do whatever it takes to get another ring on his finger.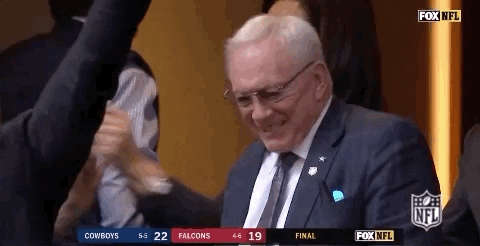 The good news for the Cowboys is that they're primed and ready to make another run at a championship. They've got Ezekiel Elliott, Amari Cooper and a good enough quarterback in Dak Prescott.
Don't sleep on Jerry Jones' guys. They could be ready to do some big things in 2019.