March Madness is here, and that means it's time to throw some serious cash on the table.
As everybody knows, I'm a bit of a gambler. It's just how I'm wired, and I generally do pretty well. March Madness is like Christmas on cocaine for gamblers.
View this post on Instagram
It's three solid weeks of games. It literally doesn't get better at all. That's why I asked people on Twitter how much they planned on gambling, and the results shocked me! Of the 1,295 voters, 71 percent said they'd gamble under $100.
Only 15 percent said they'd gamble more than $1,000.
How much money will you gamble on March Madness?

— David Hookstead (@dhookstead) March 17, 2019
These results were shocking to me, and they actually made me distraught. How is it possible that nearly three-quarters of the voters aren't going to wager more than $100? I must be dreaming, right?
A great gambling rush during March Madness is like a drug being shot straight into my veins. It's even better in fact because unlike drugs, a little gambling on college basketball never killed anybody. (RELATED: The March Madness Bracket Has Been Released)
Plus, are you really living life if your next mortgage payment isn't on the line? I don't think so.
View this post on Instagram
There are some days you just know are going to suck. You just know, and that's exactly what happened when I saw the results of this poll.
This isn't what our founding fathers fought for. This isn't why we dropped two atomic bombs on Japan. We didn't go to the moon so that you guys could play it safe. We're Americans.
We did all that cool stuff to have the freedom to drink some beers and piss our money away as we experience an emotional rollercoaster.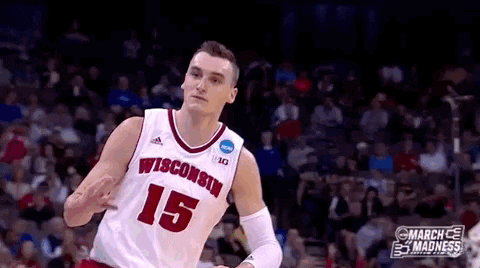 Second greatest emotional swing this country ever had was the Boston Tea Party. The first was when Duke stole a national title from Wisconsin. See, it all ties together. By not gambling on March Madness and risking your mental health and happiness, you're pretty much saying that you hate freedom. (RELATED: Watch Wisconsin Beat Kentucky In The 2015 Final Four)
Don't hate freedom. Don't force me to associate with people like that. Do the right thing here. Put some beer on ice, get the grill fired up, and prepare for some great games.