Dick Vitale recently got into a heated exchange over LSU basketball coach Will Wade.
Wade is currently suspended as the Tigers battle through March Madness because he was allegedly caught discussing payments to players on a phone call. There is reportedly an FBI wiretap of the conversation, but it hasn't been made public.
That's the main point of Vitale's argument when he appeared on "Off the Bench" on 104.5 ESPN. The hosts pointed out that nobody has heard the tape, but the legendary commentator doesn't seem to care. He also wasn't pleased to be called a hypocrite over his support for Rick Pitino and not Will Wade.
"I come on your damn show and I'm gonna be on it for ya but don't sit there and tell me it's hypocrisy," Dickie V shot back at the hosts.
Listen to a snippet of the heated exchange below. You can listen to the entire interview here.
"Get @YahooForde, get @PeteThamel, these are respected journalists. Get guys like @DanWetzel, get @Mark_Schlabach. They'll say twice as much as what I say." @DickieV on his criticism of @LSUBasketball coach Will Wade on @OTB_ESPN.

Full interview: https://t.co/9BFtv3lSla pic.twitter.com/lku5D4rzrv

— Rivers Hughey (@RivsHughey) March 25, 2019
This is why I love Dickie V. The man just doesn't back down, and certainly didn't take well to being called a hypocrite. I love it!
Old men digging into the trenches during an argument is always entertaining as hell. The hosts simply point out nobody has heard the tape, which is true, and he loses it. Classic Vitale move. He's going to the grave defending Pitino and letting Wade have it. (RELATED: The March Madness Bracket Has Been Released)
That's the kind of passion that has made him a star on the mic.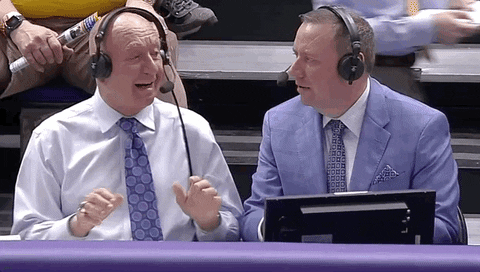 The good news for LSU is that they don't seem to be struggling without Wade leading the way. They're slated to play Friday night against Michigan State, and it should be a great one.
Make sure to tune in on CBS.