San Antonio Spurs coach Gregg Popovich got tossed Sunday in a loss against the Kings.
The legendary NBA coach was upset with a call over who a ball touched last, and he lost it when the refs gave it to Sacramento.
He had to be restrained as he yelled at the officials. He was thrown out and eventually was walked off the court.
Check out his meltdown below.
Pop got ejected following this questionable call pic.twitter.com/su6QuPRRal

— Bleacher Report (@BleacherReport) April 1, 2019
It's pretty rare to see Popovich get this fired up. Part of his whole brand is that he's extremely level-headed and doesn't go wild very often. (RELATED: San Antonio Spurs Coach Gregg Popovich Won't Commit To Coaching Next Season)
In order for him to lose it, he really has to have a good reason. Judging from his reaction above, I'm going to go ahead and guess that had been stewing for awhile.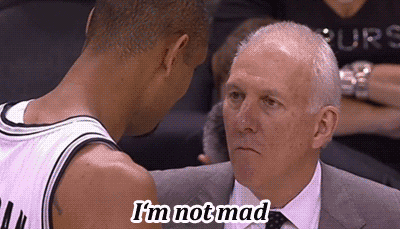 I'd love to know what Pop told his guys after the game. Sometimes, you just have to let your guys know you have their backs, and getting thrown out of a game after a bad call is one hell of a way to do that.
They might not have won the game, but I don't think there's any doubt about what distance Popovich is willing to go for his guys.
View this post on Instagram
It's good to see that he's still got some fire in him.