Russell Wilson is a much richer man as of Tuesday morning.
The Seahawks and their star quarterback reached a deal extremely late Monday night, which came right before Wilson's self-imposed deadline of midnight PST Monday for a new contract.
He's straight paid now, too. According to Adam Schefter, he got $140 million over four years, and a $65 million signing bonus. Ian Rapoport reported that $107 million of the deal is guaranteed.
He's now the highest paid player in the NFL.
Russell Wilson and the Seahawks reached agreement on a 4-year, $140 million in new money extension that includes a $65 million signing bonus, per source. https://t.co/SgsxgNIqli

— Adam Schefter (@AdamSchefter) April 16, 2019
And just like that, Russell Wilson is the NFL's new highest-paid player.

— Adam Schefter (@AdamSchefter) April 16, 2019
The Super Bowl winning quarterback posted a video of himself in bed with Ciara after reaching the new deal to announce it to the team's fans.
SEATTLE. Let's get it. @Seahawks #GoHawks pic.twitter.com/xeWnEnUzmR

— Russell Wilson (@DangeRussWilson) April 16, 2019
As you all know, I said it would be insanely stupid if the Seahawks didn't lock up Wilson for a long time. He's one of the best quarterbacks in the league. (RELATED: Seattle Seahawks Sign Head Coach Pete Carroll To A Massive Extension. Here's How Much Money He'll Make)
Guys like him just don't fall out of the sky, and it would have been a disaster if he walked away from the table.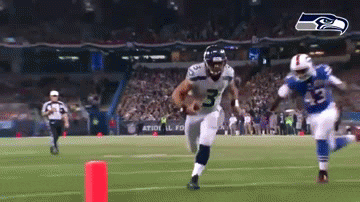 That's no longer a concern because he'll be with the team for the next several years. What an awesome development for the former Wisconsin star. He's about to be rolling in a ton of money, and I love it.
He's one of the coolest guys in the league, and you want to see guys like him have a ton of success. The Seahawks have also been getting him at a bargain from pretty much day one.
Now, the Super Bowl winning quarterback is getting his massive payday, and he deserves every single penny. Major props to him. There are few players who I'd want to see become the highest paid player in the league more than Wilson.