There's a good chance the next episode of "Game of Thrones" features the greatest battle in TV history.
As more and more information comes out, it really does seem like we're in for an epic ride in the hour-and-a-half episode this Sunday. (RELATED: These Are The Sexiest Photos Of 'Game Of Thrones' Star Emilia Clarke On The Internet)
There's a couple important things I want to point out. First, the betting markets don't make it seem like anybody is super safe. The blood is expected to start flowing within about 15 minutes, and many characters don't have outstanding odds of living.
What time will the first living character be killed in the Battle of Winterfell? #GameofThrones

9:15pm ET or earlier -115

9:16pm ET or later -115 pic.twitter.com/zoZfuFq52z

— Odds Shark (@OddsShark) April 22, 2019
Tormund, Jorah, Theon, Brienne, Jaime and the The Hound are all under +180 to die in the next episode.
#GameofThrones odds to die in Episode 3:

Tormund +110
Jorah +110
Theon +130
Brienne +150
Jaime +150
The Hound +170
Davos +225
Gendry +250
Samwell +300
Arya +525
Jon Snow +575

— Odds Shark (@OddsShark) April 23, 2019
Those odds don't make anybody favored to die, but we know some of them are going down. Interestingly enough, I don't see Tyrion on the odds. (RELATED: 'Game Of Thrones' Season 8, Episode 2 'A Knight Of The Seven Kingdoms' Is Outstanding)
That's surprising to me for sure. The reason why is simple. Daenerys told him he'd be down in the crypt during the battle, despite being on the wall when it began at the end of episode two in season eight.
Let's be real, folks. The crypts are probably going to get annihilated by the Night King and his army. They went out their way in episode two to talk about how safe the crypts are.
As we've been taught, we best learn to expect the unexpected in "Game of Thrones." If that's where everybody believes is the safest, then I expect it to get destroyed.
Plus, it'd be gut-wrenching if they kill off the women and children.
Thus far, I've already predicted a bloodbath and the crypts getting destroyed. I'd be shocked if both don't happen, especially after the scene with the little girl saying she'll protect the crypts.
The writers are setting us all up to be absolutely crushed. I can just feel it in my bones, and I'm not about that business.
Let's just hope Tyrion isn't actually in the crypts when the Night King's men come sweeping through.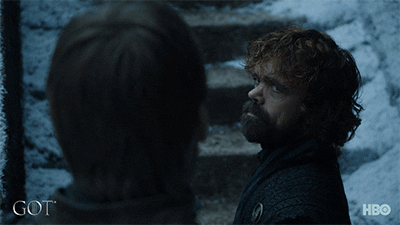 Finally, we know Jon and the Night King meet again this season. It seems like the storyline with the undead will come to an end Sunday.
That means it'd have to happen this week if they come face-to-face. Is it possible they meet in Bran's presence and the trap works?
Tune in Sunday to find out! It's going to be a great one.