Emilia Clarke just sent expectations for the rest of "Game of Thrones" into the atmosphere.
Following the battle of Winterfell, fans probably thought that'd be the most intense moment of the season. Well, we might all want to reconsider, judging from some recent comments from the woman responsible for playing Daenerys. (RELATED: These Are The Sexiest Photos Of 'Game Of Thrones' Star Emilia Clarke On The Internet)
"Episode five is bigger … episode five is [exhales]. Four, five and six, they're all insane … find the biggest TV you can," Clarke told Jimmy Kimmel on Wednesday night when discussing the three remaining episodes of the final season.
Bigger? Bigger? That can't be possible, right? The battle of Winterfell was supposed to be the biggest battle in TV history.
Is there really a chance "Game of Thrones" is about to drop an even bigger sequence of events on our heads? I hope like hell that's the case. (RELATED: The Battle Of Winterfell Was Epic In Latest 'Game Of Thrones' Episode 'The Long Night')
Give me all the action you think I can handle. I want every single second of it.
View this post on Instagram
You can also tell she was being 100% genuine. She caught herself at the last moment before she was about to drop another bomb. Seriously, what the hell is going on?
If "Game of Thrones" and HBO kept another massive battle bigger than the one at Winterfell under wraps from the world, then that'd be an incredible accomplishment all by itself.
I am juiced right now! I was already hyped for this Sunday night and now all I can think about is the week after this one.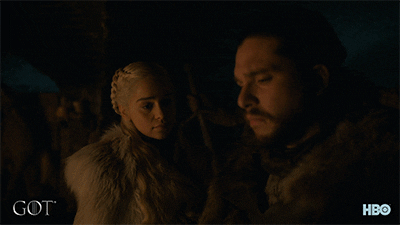 My friends, if you're not excited right now, then you're no friend of mine. Get juiced or get the hell out of my way! Let's get ready to roll.