Clemson Football coach Dabo Swinney isn't too bad at basketball.
ESPN shared a video of the two-time national champion balling out prior to the Raptors' win over the 76ers Tuesday night, and his jump shot is smooth.
Watch a video of his performance below:
Dabo balled out on the court before watching the Raptors win Game 5 pic.twitter.com/PolVACzaVS

— ESPN College Football (@ESPNCFB) May 8, 2019
At this point, I'm honestly starting to wonder if there's anything Dabo can't do. He's won two college football national titles in the past three years, he has sent plenty of kids to the pros, he can develop talent with the best of him, he's an incredible motivator and now we're learning he can slice and dice on a basketball court. (RELATED: Clemson Football Coach Dabo Swinney Gets $93 Million Extension)
The man is truly a living legend, and I know saying that will result in my inbox getting blown up by crazy anti-Clemson fans.
Remember, I don't care about the Tigers. I like Dabo as a coach, but I'm a Wisconsin fan. I'm still smart enough to recognize greatness when I see it, and the Clemson coach has it in spades.
View this post on Instagram
We also all know Nick Saban is a bit of a baller himself. At this point, we kind of have to have Swinney and Saban play against each other, right?
If they played 1-on-1 to 21 and the game was on ESPN, I'd absolutely watch. I'd tune into that matchup in a heartbeat.
They battle it out on the gridiron. It's about time they battle it out on the court.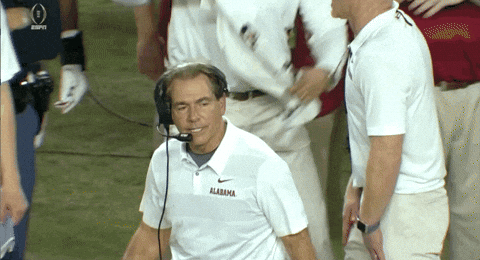 Get it done, ESPN. Just get it done.