Tampa Bay Buccaneers quarterback Jameis Winston might want to think a little longer about the decisions he's making in life.
Pete Pappas posted a video on Twitter of the quarterback letting a guy smoke a golf ball off of a helmet he was wearing.
Yes, you read that sentence correctly. An NFL quarterback thought it'd be a smart idea to let a guy swing at a golf ball on his head. You can watch the absurd video below.
Jameis Winston: "I just need to be smarter in my decision-making."

Also Jameis Winston: "I think I'll have a golf ball teed off my head today." pic.twitter.com/9liqVLm1gv

— Pete Pappas (@PGAPappas) May 8, 2019
What the hell is wrong with Winston? Seriously, what the hell is going on in that dude's mind? How dumb do you need to be in order to let a guy attempt this stunt. (RELATED: Tampa Bay Buccaneers Hire Bruce Arians As Head Coach)
The former Florida State star was suspended this past season after an alleged altercation with a female Uber driver, and he was also accused of sexual assault while at FSU.
You'd think he'd want to be a little smarter with his decision making. Apparently, I expect too much out of him.
View this post on Instagram
Can you imagine what the Bucs executives must have done when they saw this video? I wouldn't be surprised if some fainted and others just started breaking stuff in a wild rage.
He's set to make nearly $21 million this season, and he's letting guys take swings at his head. If that's not the definition of stupidity, then I have no idea what is.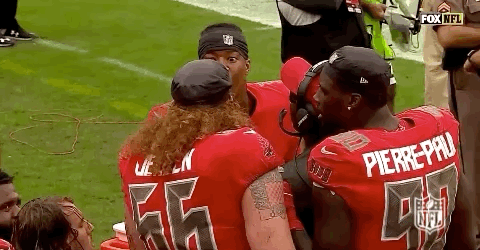 Something tells me the Tampa Bay staff are going to have a long talk with Winston, and it's not going to be a good one.