Alabama's 2019 non-conference football schedule is laughably bad.
The Crimson Tide will play Duke, New Mexico State, Southern Miss and Western Carolina in non-conference games this season, and fans should honestly be irate.
How does the SEC get away with this garbage? Duke, the premier game of their schedule outside of the conference slate, won a grand total of eight games last season, and lost quarterback Daniel Jones to the NFL.
View this post on Instagram
Alabama and their faithful fans should be calling for somebody's resignation over this garbage. Imagine being a gigantic college football fan and being handed these garbage games.
Seriously, how did Nick Saban allow this to happen?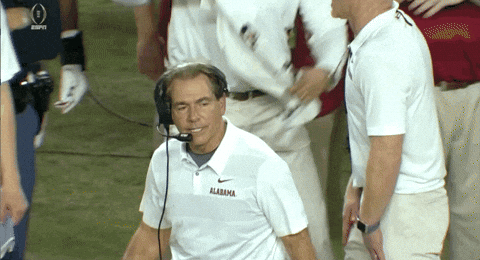 SEC fanboys want to constantly scream about how elite the conference is, but it's not hard to win a lot of games when you schedule four cupcakes. It's embarrassing. I thought the Crimson Tide were supposed to be the gold standard.
Clearly they don't mind taking reps off when it comes to scheduling tough games.
View this post on Instagram
Before you all jump down my throat about Wisconsin's best non-conference game being USF, the Badgers play more conference games the SEC and we're going on the road to Tampa to play the Bulls. (RELATED: Will Jack Coan Or Graham Mertz Start At Quarterback For The Wisconsin Badgers?)
It might not be like playing the Patriots but sacking up for a game in late August in Tampa is a far cry from anything on Alabama's schedule.
View this post on Instagram
I'm embarrassed for fans of the Crimson Tide. They love and care about football so much. They're passionate fans, and they deserve much better.
They lose a national title game and, all of a sudden, they're playing a glorified high school schedule.
It's disgusting and they'd refuse to take the field if Alabama had any pride at all.