A video of Michigan's Jordan shoes is making the round on Twitter, and might have some people wondering if the program is focused on what matters.
The video shared by The Checkdown shows off all their different football and basketball shoes. There are a ton, but that's not really the point. (RELATED: Sporting News Ranks Jim Harbaugh As The Best Football Coach In The Big Ten)
Before I dig in here, take a look for yourself.
Michigan Football gonna need a new locker room to store all these custom Jordans (via CoachALarkins) pic.twitter.com/hLb8XD1pSX

— The Checkdown (@thecheckdown) June 24, 2019
Why is Michigan showing off all of their shoes instead of focusing on winning titles? Last time I checked, Michigan's football team is a joke.
They haven't won anything under Jim Harbaugh. Despite having sky high expectations every single year, they still disappoint everybody.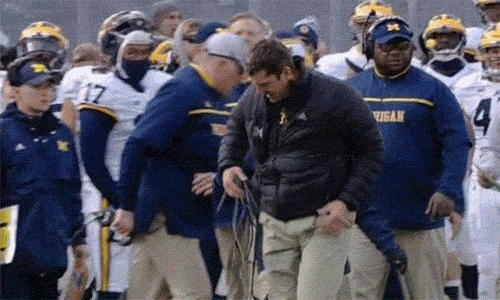 They've got no B1G titles, no B1G championship game appearances, no major bowl wins and no college football playoff appearances.
Yet, they somehow have time to show off all their new shoes. Imagine if they put that amount of time into beating Ohio State. Maybe they wouldn't get embarrassed in front of the whole country.
I hope Michigan never changes. Watching their fans brag all year about how great they'll be and then turning around to get crushed will never not be funny.
It just won't be. Enjoy your shoes, Michigan! It's all you guys have got to be proud of.