The pitch from the Lakers to Kawhi Leonard apparently involves making him the focus of the team.
Los Angeles is making a serious push for the Toronto Raptors star to join the squad alongside LeBron James and Anthony Davis, and the pitch seems like something a lot of guys would go for. (RELATED: Kevin Durant Will Sign With The Brooklyn Nets For $164 Million, Kyrie Irving Will Get $141 Million)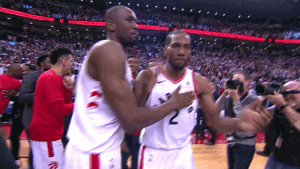 Ryen Russillo said the following during an appearance on The Woj Pod Show when discussing the situation, according to BroBible on Tuesday:
LeBron is saying for the first time in his basketball life that he is willing to defer the style of play. They are going to tell [Kawhi] anything he wants to hear. They are going to tell Kawhi, 'You can take all the last shots. We can run the offense through you.' And LeBron has a style of play that could, I'd say, adapt to another guy like that. Anthony Davis puts up massive numbers without being selfish so I could see it working.
If this is actually what the Lakers are telling Kawhi, then he should seriously consider joining King James as his best option.
If LeBron is honestly willing to step aside and let Kawhi be the face of the franchise, then it sounds like an awesome situation.
Being the face of the Lakers is something only a handful of other players have ever been able to do.
View this post on Instagram
Now, LeBron saying he'll get out of the way and actually doing it are two very different things. Whether you're a fan of him or not, I think we can all agree he's not the easiest guy to work with.
Nobody with three rings is going to be the most humble person on the planet, and King James has absolutely earned his ego.
View this post on Instagram
We're still waiting on pins and needles for Kawhi's decision, and it's looking more and more every day like the Lakers could be the play.
If it is, prepare for Los Angeles to absolutely dominate next season. It's a crazy time to be a sports fan. That much is for sure.