USC football coach Clay Helton is currently the man favored to get fired first during the upcoming season.
According to odds posted on Twitter by Odds Shark from BetOnline, Helton is currently leading the pack at +550. Rutgers coach Chris Ash is second on the list at +600. (RELATED: David Hookstead Is The True King In The North When It Comes To College Football)
You can check out the full list below.
Odds to be the first College Football Head Coach to be fired (BetOnline)

Helton (USC) +550
Ash (Rutgers) +600
Smith (Illinois) +900
Malzahn (Auburn) +1000
Sitake (BYU) +1200
Orgeron (LSU) +1400
Fuente (VTech) +1400
Taggart (FSU) +1600
Gundy (Ok State) +1600
Allen (Indiana) +2000

— Odds Shark (@OddsShark) August 26, 2019
Do you hear that sound off in the distance? That whisper off in the clouds? That's the sound of Urban Meyer coming to Pasadena and all the speculation surrounding it. USC plays Stanford, Utah, BYU, Washington, Notre Dame and Oregon all before we hit the end of the first week of November.
The Trojans could realistically lose every single one of those games. Best case scenario is they probably split them 3-3, lose another unexpected game somewhere and finish out the season at 8-4. That's the best case scenario.
View this post on Instagram
The worst case scenario is they drop all six, lose a couple more games and finish out the year at an abysmal 4-8 or 3-9. If that happens, Clay Helton will absolutely be looking for a new job.
With every single loss the Trojans have this season, the calls for Urban Meyer will grow louder and louder. The speculation the former Ohio State coach would take the USC job started before the three-time national champion even retired.
View this post on Instagram
With Helton on the hot seat, the calls for Meyer will only get louder. If the Trojans have multiple losses going into October, you can bet like hell the noise surrounding Meyer will reach deafening levels.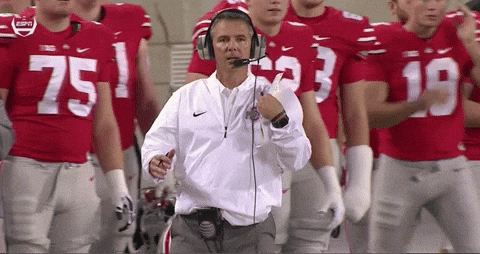 Stay ready, folks. Urban Meyer to USC is about to be talked about nonstop, and I'm here for all of the chaos. It sure would be something to watch him win a national title with three different teams.