New England Patriots coach Bill Belichick couldn't have been more excited about Kyle Van Noy having a son.
The linebacker missed the game Sunday against the Steelers to be with his wife as she gave birth to a son. Following the big win, Belichick and the rest of the team celebrated great news.
Watch the video released by the team on Tuesday below. It'll pull at your heartstrings.
How do we feel about a Sunday night victory in Foxboro?!

Awww yeah. pic.twitter.com/zw8epwTLrV

— New England Patriots (@Patriots) September 10, 2019
My friends, that's what we like to call a golden moment in the business. Look at the pure joy on Belichick's face. The guy couldn't have been happier. (RELATED: Tom Brady Practices With Suspended Teammate Josh Gordon)
Yes, he's all in and 100% focused on winning, but he's also clearly a big pro-family guy. He gave Van Noy the time off to be with his wife, and then was the first one to lead the celebration after his son was born.
What more could you ever ask for out of your head coach?
View this post on Instagram
It's always awesome when teams give inside looks like this one of Belichick from the Patriots. Fans really can't get enough of this kind of content.
It goes to show these people are more than just athletes and coaches. The man who led the Patriots to six rings looked even happier about the birth of a child than crushing the Steelers.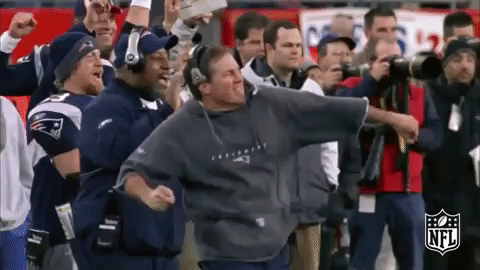 Major props to Belichick for giving us all this heartwarming moment.