Oakland Raiders head coach Jon Gruden was feeling great after beating the Bears 24-21 on Sunday.
The Raiders pulled out a very tough win after it looked like the Bears were going to get the victory. Gruden was apparently very happy with his team because he cut loose in the locker room. (RELATED: David Hookstead Is The True King In The North When It Comes To College Football)
In a video posted by the team, the head coach was all energy as he celebrated with his team. Give the video a watch below.
"I don't have a disco, but let's all start dancing." pic.twitter.com/E9A36DiICP

— Oakland Raiders (@Raiders) October 6, 2019
This is just the latest example of why Gruden is such a popular dude. He couldn't have cared less about the cameras around him.
All he wanted to do was party it up after pulling off the huge win over in London. After all the heat he's taken from the pundits, he had his squad rolling Sunday.
If that's not a reason to celebrate, then I don't know what is.
View this post on Instagram
Gruden was just being a man of the people. He got the win, he was happy with his team and he had some energy to burn. There's nothing wrong with that at all.
If he's this happy after winning just a regular season game, imagine what Gruden would do if he can get the Raiders on a nice postseason run.
He'd be absolutely electric.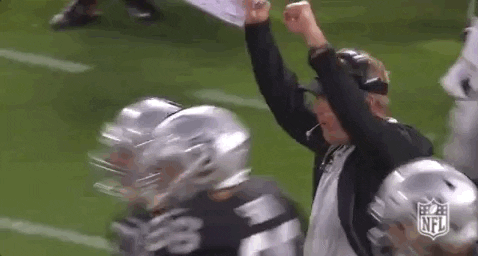 Go, Gruden, go! The whole NFL world is loving it when he's at the top of the mountain.