Coors Light is coming through in a big way for Olive Veronesi.
A picture of Veronesi holding a Coors Light with a sign asking for more beer during the pandemic set Twitter on fire. (RELATED: David Hookstead Is The True King In The North When It Comes To College Football)
During these trying times, we all need something to smile about, and the picture of Veronesi was one of the best things we've seen in a long time.
93-year-old Olive Veronesi of Seminole, PA, is staying home. But she has one request for her neighbors. @CoorsLight, you're up! ( by @KDKA) pic.twitter.com/6itfzwxfNF

— Darren Rovell (@darrenrovell) April 12, 2020
Now, the beer company is going to make sure she's taken care of. "Olive asked, and beer is on its way," Coors Light tweeted Sunday night.
Olive asked, and beer is on its way! https://t.co/VnUWwVh2t8

— Coors Light (@CoorsLight) April 12, 2020
This whole situation is awesome. It's exactly what America is all about. Veronesi is doing her part to help us win the war against coronavirus, but her beer stock is running low.
You can't win a war if you're low on resources, and beer plays a vital role in keeping spirits high. Without it, I'm not sure we'll win.
Well, Coors Light is showing up and showing out to make sure she doesn't go thirsty.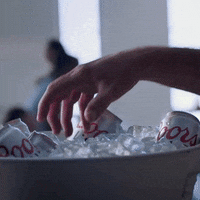 Props to Veronesi for keeping up the good fight, and props to Coors Light for sending her some beer. It's always great to see people come together.