Ah, remember the days when you could take a stroll outside without hiding your face under a protective mask? Those days may come again one day, but for now, it's crucial that you cover up to protect yourself and others.
But as the summer months begin, protecting yourself against outdoor elements like the hot sun, sand, and more are also of utmost importance. So why not kill two or three birds with one stone? Introducing the Go Incognito Outdoor Cap, the one-stop-shop answer to face, neck, and head protection. Whether you're out hiking, fishing, camping, or just walking the dog, this outdoor cap helps you stay safe and comfortable in the heat.
Unlike other full-face and head protective gear out there, the Go Incognito Outdoor Cap is incredibly comfortable, even in warm weather. That's because it's comprised of high-tech polyester microfiber and a cotton blend, allowing the fabric to breathe and feel comfortable against your skin. And thanks to its moisture-wicking properties, you can wear the cap in the heat, no problem, since it easily absorbs sweat or moisture. And while it's lightweight, it's strong enough to block dangerous UV rays or pesky wind from coming through.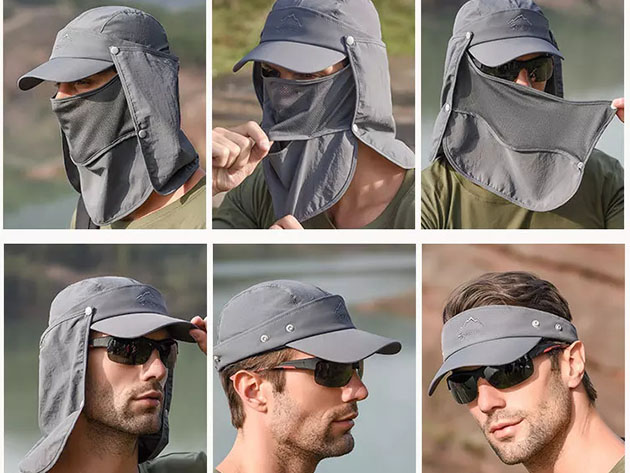 When wearing the Go Incognito Outdoor Cap, you're protecting your face, head, and neck — either all at once or one at a time. Depending on what kind of protection you want, simply snap on or off the protective neck or face coverings to the cap base. You can even wear the cap as a stand-alone hat or visor if you'd like.
When it comes to outdoor protection, the Go Incognito Outdoor Cap is a summertime must-have. And for a limited time, you can get one for just $34.99 at a cool 30% off.
Prices subject to change.
Do you have your stay-at-home essentials? Here are some you may have missed.
stackSonar('stack-connect-p', '283');