While there's never a good time for your car's battery to die, it always seems to happen at the worst possible moment, like when you're running late for work or on a camping trip in the middle of nowhere. And unless there's another car around with a driver that has a pair of jump cables ready, you can find yourself in a highly stressful, and sometimes even dangerous, situation with little to no warning.
If having peace of mind while you hit the road sounds appealing, you'll definitely like what this Duracell Portable Emergency Jumpstarter has to offer. Designed by the ultra-reliable Duracell brand, this self-contained jumpstarter can wake up your car's battery no matter where you are, and it never requires the power of another vehicle.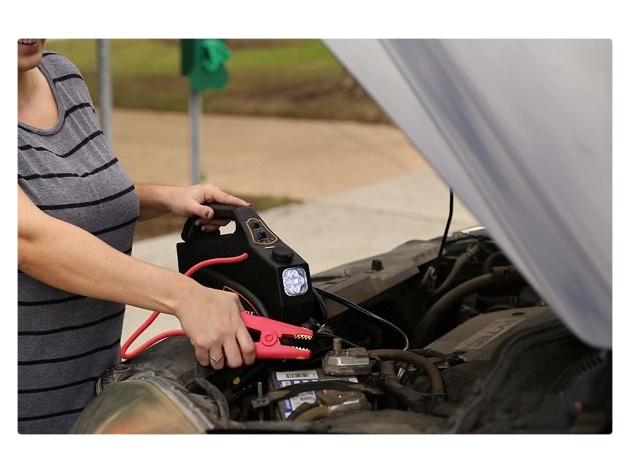 Capable of providing a jump for four, six, and eight-cylinder engines, the Duracell Portable Emergency Jumpstarter is a must-have for a wide range of drivers, as it can get them out of a serious jam. And as if its great portability weren't impressive enough, this gadget can also serve as a power bank for your smartphone and tablet when you're on-the-go. It even boasts a built-in LED emergency light so you never get stuck fumbling around in the dark.
This portable emergency jumpstarter is one of Duracell's newest, most innovative products on the market today thanks to its incredibly reliable, durable build. And unlike other jumpstarters out there, this thing is incredibly easy to use. And thanks to its LED battery fuel gauge, you'll always know exactly what its battery level is.
Why wait for an emergency to happen when you can be prepared on the road with your very own Duracell Portable Emergency Jumpstarter? And given that it's nearly 15% off for a limited time, this buy is a no-brainer. Get it here for just $59.99!
Prices subject to change.
Have a suggestion for a cool product or great deal that you think Daily Caller readers need to know about? Email the Daily Dealer at dealer@dailycaller.com.
The Daily Caller is devoted to showing you things that you'll like or find interesting. We do have partnerships with affiliates, so The Daily Caller may get a small share of the revenue from any purchase.