Sports anchor Rick Karle has dropped the most absurd Facebook post of 2020, and there's not a close runner-up.
During a Monday media session, a reporter opened a question to Alabama coach Nick Saban by saying, "Hi, Saban!" Naturally, reasonable people moved on and didn't think a second thing about it. (RELATED: David Hookstead Is The True King In The North When It Comes To College Football)
On the Nick Saban press conference, a reporter just addressed their question with "Hi Saban."

— Aaron Suttles (@AaronSuttles) December 28, 2020
Not our guy Karle! He had a full-on meltdown and proceeded to write the most pretentious column ever about how you must always refer to the six-time national champ as Coach Saban.
.@AlabamaFTBL coach #NickSaban held his @rosebowlgame newser today & a reporter addressed the coach as "Hi, Saban!"

His name is Coach Saban.

Not Nick.
Not Saban.

Here's why: https://t.co/9sNm0r4jeg#Respect #RollTide @NDFootball

Picture via @UA_Athletics & Rose Bowl pic.twitter.com/UQr8wWkxg4

— Rick Karle WVTM 13 (@RickKarle) December 29, 2020
You can read the full post below. It's utterly insane.
Did all you peasants read every word of that place and learn your place? Saban isn't a human to you low-class nobodies.
To you freaks, he's Coach Saban, and you should consider yourself grateful that you're even allowed to say his last name at all.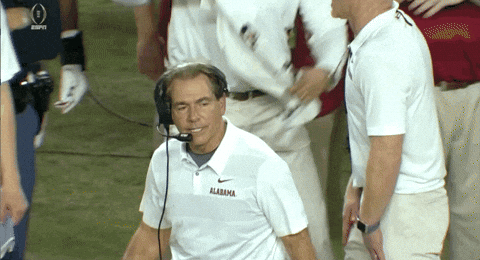 I wish I could have seen the look on Karle's face once he finished his manifesto about how we must all kneel before Saban.
You know who is probably most annoyed with this hysteria? Nick Saban. Oh, sorry, I meant Coach Saban. Allow me to report to the gallows quickly for my punishment by referring to somebody by their name!
In case you want to know why sports reporters are often seen as clowns, look no further than Karle's outrageous Facebook post.
It's almost like he's begging for Saban's attention. It's like the guy who thinks if he white knights hard enough that a woman will finally get with him. My friend, it isn't going to happen!
Now, everyone get back into line so that we can get lectured on whatever subject Karle decides we need to be educated on next.