Duke basketball coach Mike Krzyzewski has apologized for his viral rant directed at a student reporter.
Coach K went mega-viral over the weekend when he was asked by student reporter Jake Piazza about how the team moves forward after dropping to 5-5. The legendary basketball coach went on a bizarre rant about empathy and the kid being an econ major. (RELATED: David Hookstead Is The True King In The North When It Comes To College Football)
???? pic.twitter.com/OEhaZbmFfq

— Kyle Boone (@Kyle__Boone) January 24, 2021
However, he eventually manned up, called the kid and apologized for his actions. Piazza wrote Monday in the Duke Chronicle, "My phone rang and Coach K was on the other end of the line. Our call was short, but the sincerity in his apology was genuine. And in the end, I appreciated the call."
This was not exactly how I expected my first postgame question to Coach K to go. https://t.co/a7sU1UE46a

— Jake Piazza (@jake_piazza) January 24, 2021
I still can't believe Coach K had the reaction he did to being asked about the Blue Devils being awful. It made no sense.
As I said at the time, if you don't want to be asked about your team being trash, then don't fall to 5-5. It's pretty easy to figure out.
View this post on Instagram
Instead, Coach K decided to take shots at a young man trying to do his job. It was pretty pathetic no matter how you slice it.
Having said that, he eventually did the right thing and apologized.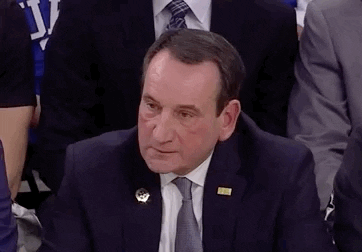 Now, we'll have to see if Coach K can get his guys into shape and start winning some games. College basketball just isn't the same when Duke is bad.