Dwayne "The Rock" Johnson is very open to running to be the President of the United States of America.
Back in 2017, the Hollywood superstar made waves when he told Ellen that he was "seriously considering" trying to win the Oval Office at some point in his life, and it sounds like he's still open to the idea years later. (RELATED: David Hookstead Is The True King In The North When It Comes To College Football)
Johnson told USA Today the following about possibly running to be the President:
I would consider a presidential run in the future if that's what the people wanted. Truly I mean that, and I'm not flippant in any way with my answer. That would be up to the people…So I would wait, and I would listen. I would have my finger on the pulse, my ear to the ground.
Honestly, I love The Rock, but why the hell would he want to be President? The man lives the life right now as a Hollywood star.
He makes awesome movies, makes a ton of money, is universally loved and doesn't have to deal with many negative issues.
When you're living a life like his, why would you ever want to give that up in order to be President? I damn sure wouldn't.
View this post on Instagram
Having said that, I'd also love to see him run for office. He'd probably poll insanely high. I'm not saying he'd win, but he'd probably do much better than expected.
Outside of Matthew McConaughey, there are very few people as universally liked as The Rock.
View this post on Instagram
Now, will he ultimately end up doing it? I doubt it, but who knows. Donald Trump was President after starring on "The Apprentice." So, you never know!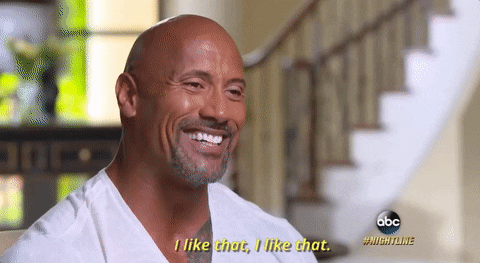 Let us know in the comments if you would vote for Dwayne "The Rock" Johnson!