Feel that itch? It must be spring lurking around the corner, giving you the urge to give your home a good clean. And considering the fact that indoor allergens, like dust mites, pet dander, and more, are hiding in the deepest, darkest corners of your home, spring cleaning couldn't come soon enough.
Instead of waiting for the seasons to change to remind you to give your home the deep clean it needs, let a quality spin mop keep your floors sparkling clean all year round! If your floors could use a little pick me up, no cleaning tool is better for the job than the Elicto ES-530 Electronic Cordless Spin Mop & Polisher. That's because, instead of using multiple gizmos and gadgets to mop, polish, and scrub your floors, this handy tool does it all!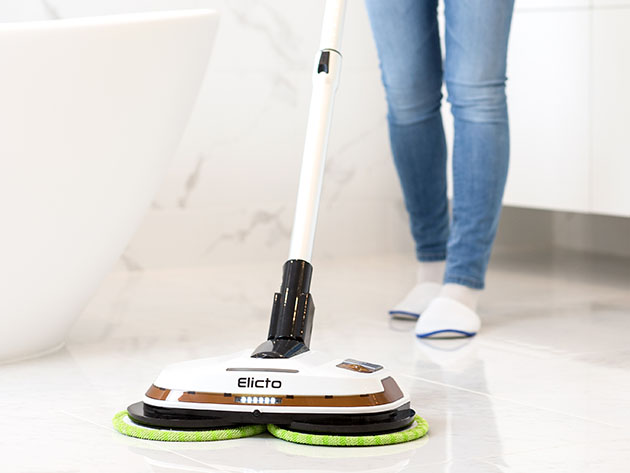 Completely wireless, this spin mop lets you reach every nook and cranny in your home, whether it's under your kitchen cabinets or that tight spot behind the couch in the living room. And thanks to its two high-speed mop heads, you can achieve an incredibly efficient clean unlike you've ever experienced before. It even boasts a button that ejects water or your favorite cleaning solution that you can use as you clean.
Powered by a strong 2,200mAh battery, you can expect 30 minutes of cleaning between charges, and without any pesky wires, you never have to worry about being close to an outlet. It's no wonder this cleaning tool has received rave reviews online, earning it high ratings on multiple popular sites.
Just read some of the stellar reviews for yourself!
"I love this machine. I have three dogs who track mud into the house. Being able to clean up without pails of water etc. is great . Would definitely buy again." – Thomas I.
"OMG. This electric mop/scrubber is of high quality with an unknown name brand. I purchased 3 of these and need another for myself at home." – Diamondsinparis
"I am in love with this floor cleaner!! It was the only one I found that was electric, all others were battery only. It does a great job! Highly recommended!" – Tootall
Prices are subject to change.
The Daily Caller is devoted to showing you things that you'll like or find interesting. We do have partnerships with affiliates, so The Daily Caller may get a small share of the revenue from any purchase.